So you have all these options at your fingers that you can use but do you pay for a high-priced theme or do you buy a page builder and build your own? The answer is not a simple one but I can help you decode more complex questions.
WordPress page builder vs theme? A theme is the fastest way to build a website since many themes have many options to help you build your website. Page builders however can give you total control over things like 404 pages, pop-ups and much more. If you have time, then a page builder is more flexible but if you need a quick website, then consider a premium theme.
Let's look at more popular page builders and themes on the market. We will go over the details of some drawbacks of choosing one of these over the other.
What's a page builder?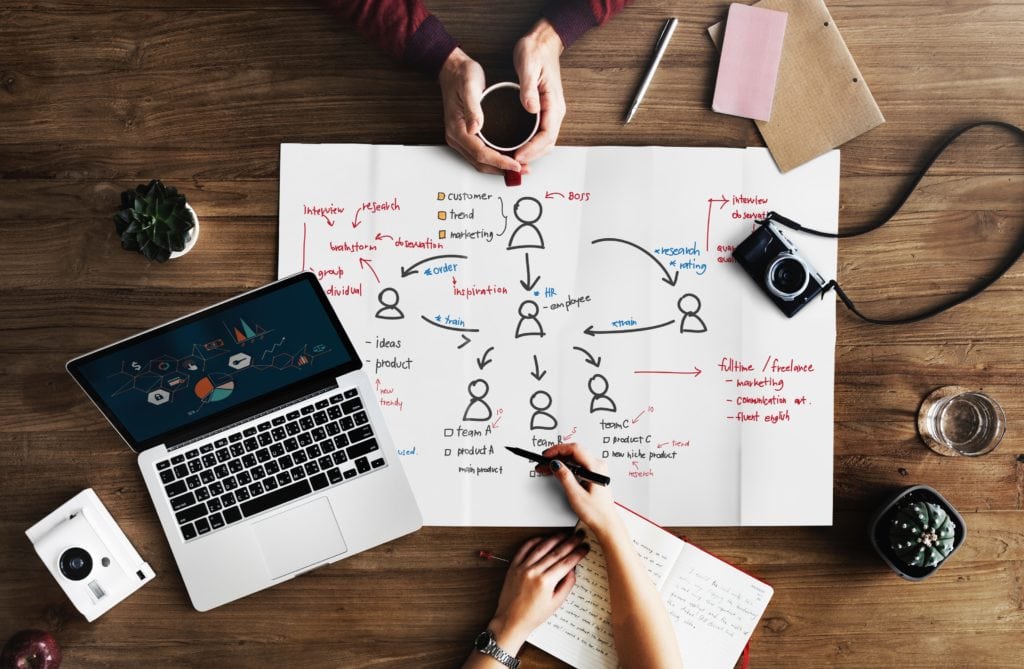 A page builder is a drag-and-drop plugin which allows you to build your website using a set of widgets. These builders will allow everything from full page customization to building things like pop-ups or 404 pages. However, you need to be careful because not all page builders are created equal.
Some page builders allow full theme customization which will require a larger learning curve than others. Elementor for instance can build 404, achieve pages, Woocommerce, headers, footers and more.
Another thing you might notice is that many page builders require a theme to be installed. These themes will make the framework of the website that you then you customize through the page builder.
WordPress has no shortage of page builders with a long list of choices you may be confused but stick with us and we will tell you which page builders you should use.
What is a theme?
A theme unlike a website is the way your website looks. Themes have a set of CSS rules which allow you to make the website work on everything from mobile to desktop. This will also allow some customization but unlike a page builder you won't have granular details that you would have with a page builder.
However, there have been many themes which have made it their mission to just use WordPress's built-in options such as Gutenberg or their own page building experience built into the theme. So as you can see from above there is a bit of a conflict with themes and page builders.
One thing that themes can never do is dynamic content and things such as pop-ups or contact forms. One of the biggest drawbacks of a theme is that it will require you to install more plugins which will create slow down on your website. 
What's your website object?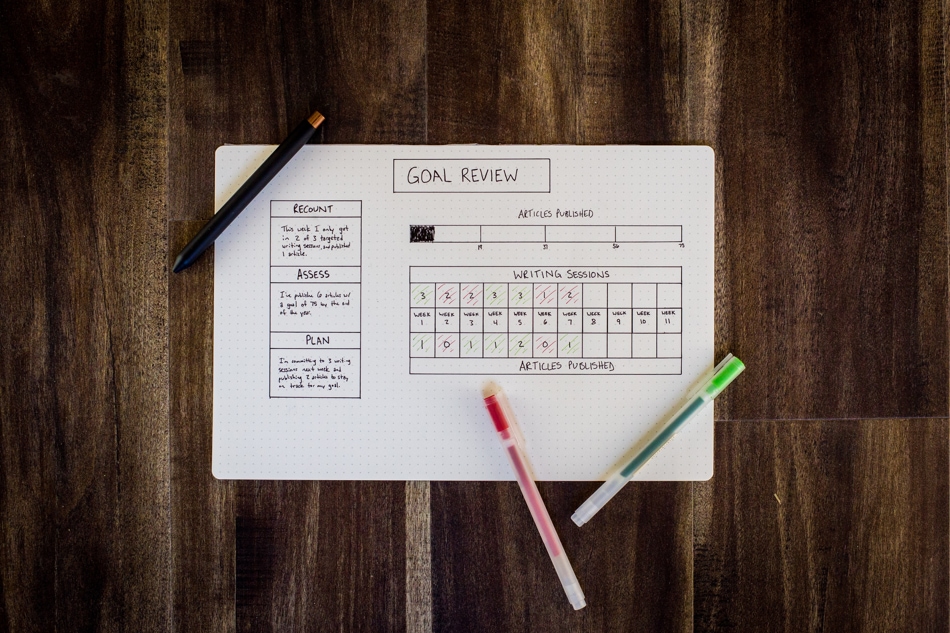 Knowing what you want to do with your website will help you decide which road to go down. If you want something that's more fast and quick then a theme is right for you. If you want more control and fewer limitations, then a page builder is the choice you should pick.
You also have to consider the learning curve and time. Many themes can be up and running in less than a few hours where page builders can take weeks or months. So when you are considering either of these you need to really know what your aim is, if you want to be more original, go with a page builder. 
Pricing of a page builder or theme
When you are considering something like a premium theme or a page builder, there are plenty of free options but if you want more options, then you want to go with premium. Both themes and page builders work better when you expand the options that the freemium downloads give you.
Page builders can come with a lifetime model so if you pay once then you are done and you don't have to pay again. You won't find very many themes that offer this model, many require you to pay up every year. One important thing to note that themes are normally much cheaper than the cost of a page builder which can be hundreds of dollars.
Some themes will also have child themes which help to customize the website further without you doing any coding. This however, comes with another price tag but these are often lifetime for the price. 
So what is the correct theme or page builder for you? See down below as we dive into both and give you some options.
Page builders you should consider
Below are four page builders which will give you many choices for building your website. Some of theme will require a theme while others do not require a theme. They also come with a variety of prices but I assume that you will want either a lifetime or one license if you are building one website.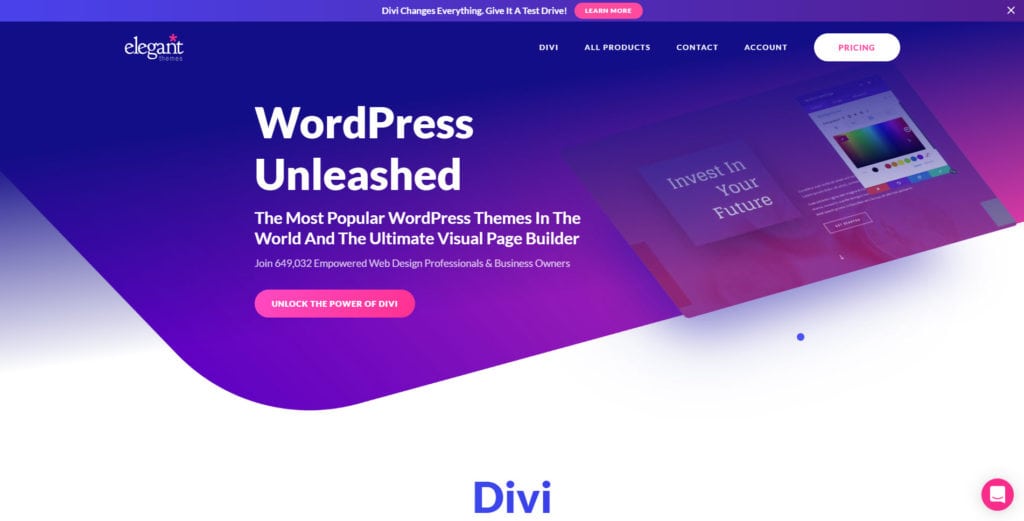 Divi has been one of the kings of page builders and even comes with its own theme which you can install with Divi. The theme enhances the page builder itself. Divi has a decent learning curve but also has many options for support. We have a full review on Divi here.
| | |
| --- | --- |
| Price | $89/yearly, $249/lifetime option. |
| Support | Great support with lots of options for Facebook or tickets. |
| Theme | It includes a theme with the price you pay. |
| Complexity | Moderate, Divi has many features which take a long time to learn. |

Elementor has become one of the biggest page builders that the market has ever seen and it shows no signs of stopping. Elementor has many options for building a full theme such as pop-ups, 404 pages, animations and so much more. If you want to read what we think of Elementor, find it here.
| | |
| --- | --- |
| Price | $49/yearly, no lifetime option. |
| Support | Great Support just like Divi. |
| Theme | Requires a theme but you can use any theme, does not use a special theme. |
| Complexity | Low to moderate, Elementor is very easy to learn but hard to master. |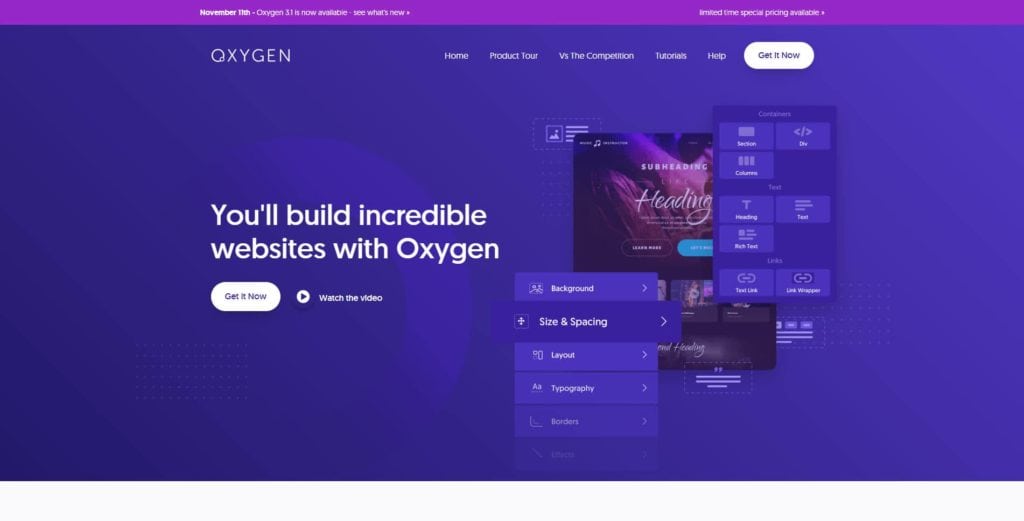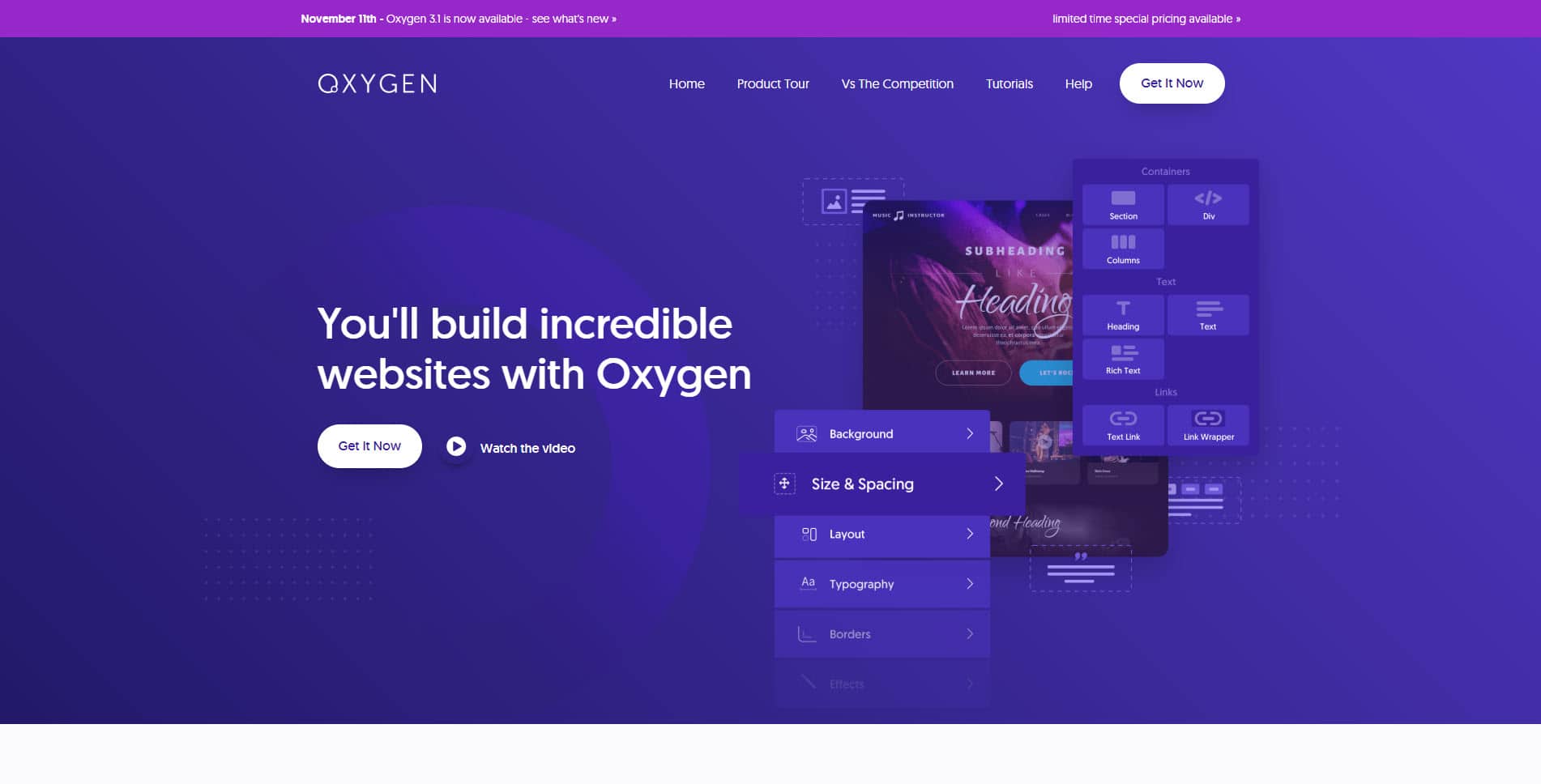 Oxygen is another great option for page builders with so many options for anything you want to build. Oxygen has the greatest amount of a flexibility of all the page builders but also comes with the hardest learning curve. Want to know how Oxygen ranks compared to other builders, read here.
| | |
| --- | --- |
| Price | $99/lifetime |
| Support | Moderate, Oxygen is not as widely used as Elementor or Divi. |
| Theme | Oxygen does not use a theme, so you can use any free themes. |
| Complexity | High, Oxygen will require a lot of time to learn. |

Brizy is by far the easiest page builder to use and has a great interface. Brizy is very new and because of this it's the least supported page builder because of how new it is. Still Brizy offers you many of the same options as other of the page builders above. Want to know what we think of the newest page builder, see here.
| | |
| --- | --- |
| Price | $49/yearly, $299/lifetime |
| Support | Low, they offer many of the same support but you won't find any much information. |
| Theme | Brizy will allow you to use any theme. |
| Complexity | Low, Brizy is very easy to learn. |
Themes you should consider
So if page builders are not your thing and you would rather use something like a theme, they have many great themes available. Themes also come with many options which can give a range of things you can do with and without page builders.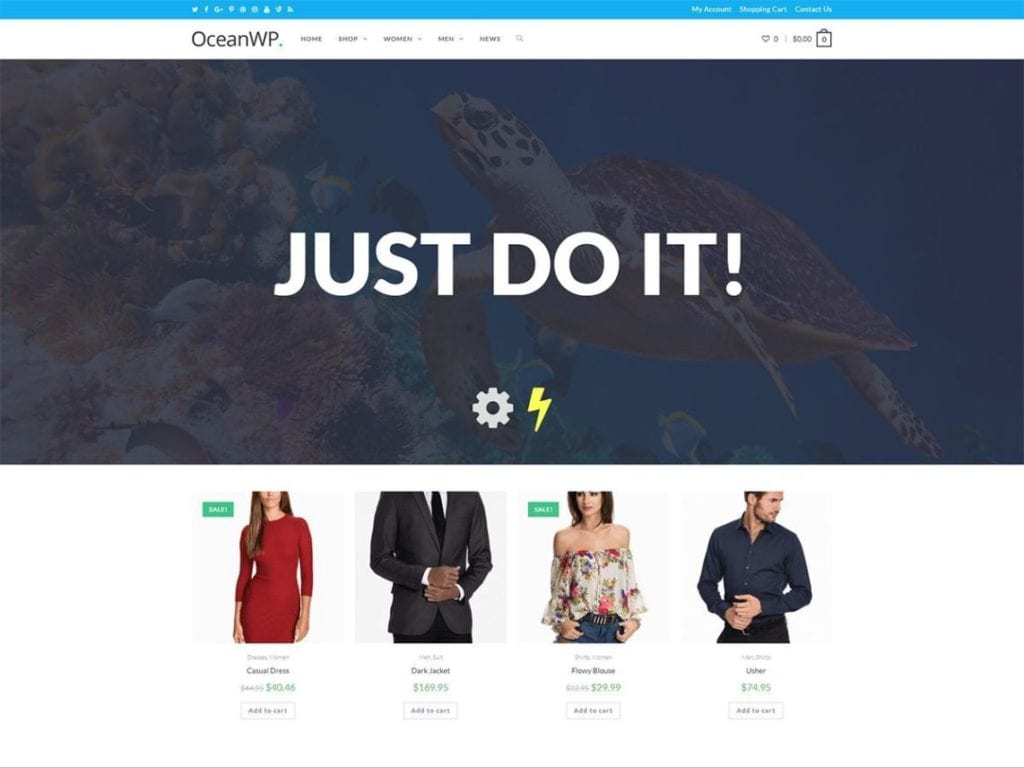 OceanWP is one of the more seasoned themes that offer plenty of options with or without a page builder. It also has a ton of add-ons which do require more money but allow you to customize your blogging experience without page builder technology. We wrote a full review on OceanWP here explaining what you can expect out of the theme.
| | |
| --- | --- |
| Price | $39/yearly, $159/lifetime |
| Features | White Label, sticky anything, cookie notice, modal window. |
| Page Builders | Optional. |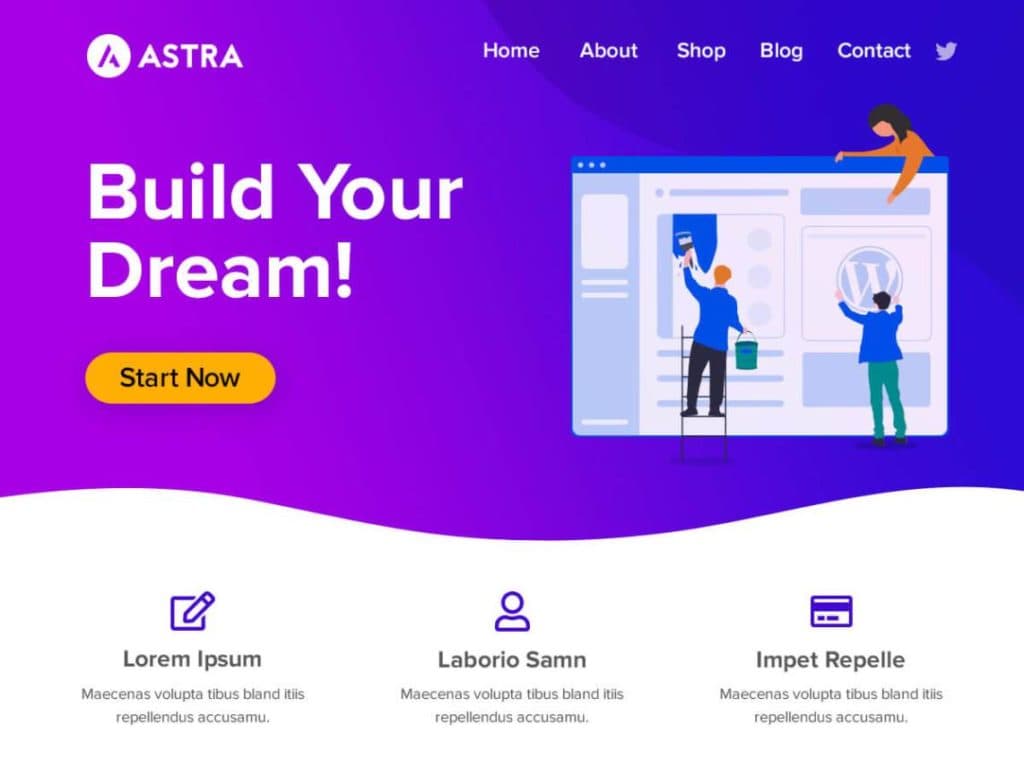 Astra is the king of of themes to me just because of the speed, run some test and you will find out Astra is blazing fast. It also has many features which make it helpful for anyone building a website.
| | |
| --- | --- |
| Price | $59/yearly, $249/lifetime |
| Features | White label, multiple headers, Google fonts, Woocommerce, LifterLMS integration, LearnDash integration. |
| Page Builders | Optional but mostly needed to achieve some results. |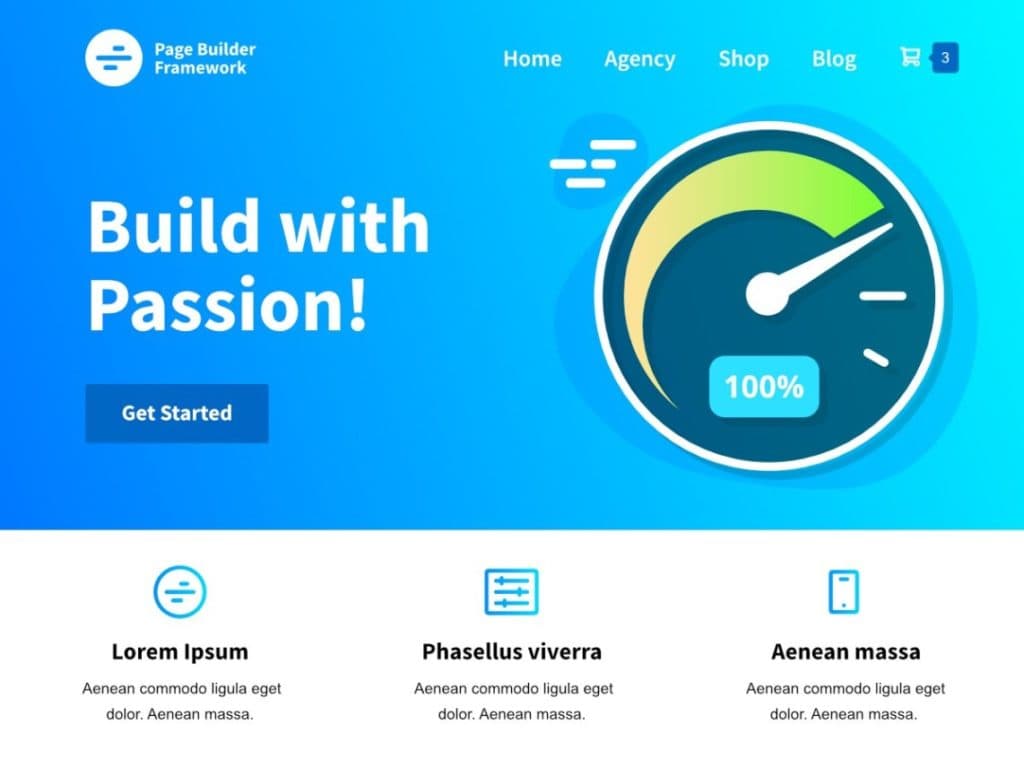 Page Builder Framework is a rather newish theme that hit the market a while back. Since it hit, it's grown in popularity and people seem to enjoy it. Like the page builders above it has some similar features.
| | |
| --- | --- |
| Price | $58/yearly, $248/lifetime |
| Features | Header, megamenu, menu hover effects, menu variations. |
| Page Builders | Recommended by the builder. |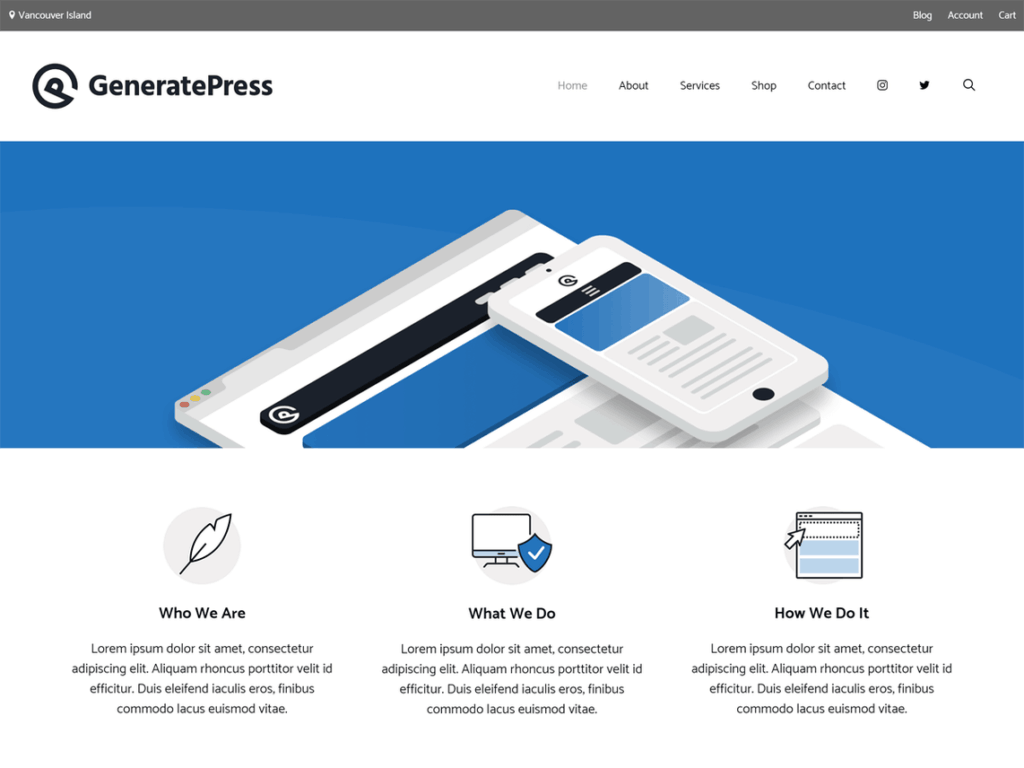 GeneratePress is a theme that was built off the Genesis framework. Anyone who has been around WordPress knows that Genesis was one of the first themes to hit it big. Since GeneratePress has grown it has become one of the more popular themes is on WordPress.
| | |
| --- | --- |
| Price | $48/yearly, no lifetime option. |
| Features | Menu plus, Backgrounds, disable elements,  import/export. |
| Page Builders | No, you can use GeneratePress without the use of a page builder. |
Related Questions
So which solution is right for me? Hopefully, you can use the charts above to decide. You might need a hybrid solution that requires both a page builder and theme. But maybe you can use a free theme with a premium page builder or use a free page builder with a premium theme. The choices are endless, if you have questions reach out to someone and ask.
Can I use a free theme and page builder? Sure! But expect that your options will be very limited. If you went that route I would recommend OceanWP + Brizy, this will give you the largest amount of flexibility with no budget.
Conclusion
I hope you have enjoyed this in-depth look at themes and page builders. Hopefully, you now understand the differences between them and you know which one is the right choice for you. If there is something we missed or didn't cover up above, please shoot us an email. And if you want more WordPress content, then check out our website for more content.