If you are new to page builders, some people will argue that Elementor is not the king. Human nature forces us to believe whatever we buy is the best on the market. That is not the case.

In this article we will look at all the difference between this page builder and others. We will also discuss things Elementor has done right and things it is doing wrong. 

As we dive into Elementor, I want you to keep in an open mind and realize that what I am ranking Elementor on is its overall potential today. Weeks or even months from now that might change with other page builders
depending the number of new features and changes to the team. One thing is for certain the page builder market changes at rapid speed.

So let's take a deep dive into Elementor and all of its glory. An important note, they did not pay me to write this Elementor review. I have their top license which I pay for myself. This article contains affiliate links so if you would like to purchase Elementor after reading my review, I'd be thrilled if you clicked one link.

Technical Details

As with all of our tests, we include things like build version of the product and WordPress information. This is helpful for you when you are making your decision later as, products will often be updated overtime so certain details might differ from what you see on your screen.

WordPress: version 5.0.3
Elementor: Free version 2.4.5 and Paid 2.4.3 (This is very important)
Hosting: Shared Hosting Environment/Local Hosting
Overview of Elementor and Pojome
Elementor was originally released June 1, 2016. The company behind the plugin is Pojo.me.
The company behind Elementor was in the WordPress market for several years before creating Elementor. Elementor was their one hit wonder by the looks of it and they have skyrocketed into fame. 
Before starting Elementor they made several themes, plugins and other builders to use with their original website. Before Elementor became big the team already had a solid background in working with WordPress and creating plugins and themes that just worked.
When Elementor hit the projects changed and apparently has taken over Pojo.me as their full-time development. While they still dabble in other projects, they took over Layers WP earlier this year and made it compatible with Elementor. These little side projects often feel like minor things compared to big Elementor changes which now affect millions of installs across WordPress.
Still what separates Pojo.me and Elementor from the competition is their strong development cycles and promises they keep. Unlike many of their competitors who hide details about new features or what is coming, Elementor is a more open system. They keep all their deadlines tight and they also keep the community informed.
What makes Elementor different?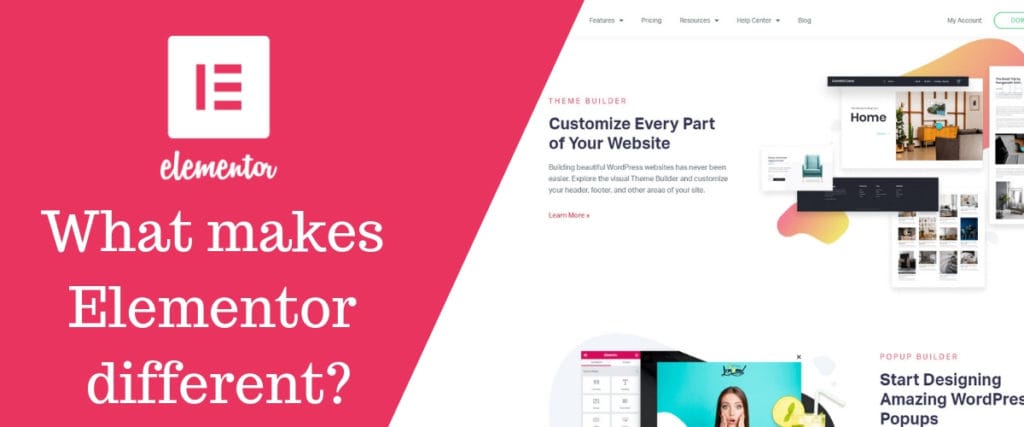 Unlike other page builders on the market, Elementor has really made a name for itself with solid features and updates. Each update is usually stable and secure which makes people feel at home. Unlike other builders who seem to announce every few months that there is a new security patch. Elementor has yet to do this which is amazing.
The builder itself has lots of things going for it but some unique features that just work would have to be things like: 
The Finder which allows you to search through all the pages, posts, templates and even things like WordPress native functions.
Pop-up builder which is built into Elementor and allows things like triggers and conditions.
Woocommerce built in design to customize things like the shopping cart pages and product pages.
Right click copy and pasting of widgets and style across multiple pages. 
Elementor has all this and so much more. While this might seem like small things, all these things work so well it is hard to really fault Elementor for doing anything poorly. They are focusing on features that the community wants rather than things they want, which I believe is the biggest factor in making Elementor grow at the speed it has grown.
How Elementor Works
Like other page builders in the market, Elementor uses the same tried-and-true formula of building a page builder that has become the standard. The page builder works so well and flawless that even people new to the system can find it easy to use.
The Elementor community groups on Facebook and alike also help to make sure that new users are greeted with open arms rather than being harassed and berated for not knowing how something works. The community is solid for helping people find answers to common problems inside Elementor.
Most of Elementor's inner workings, work similar to other builders on the market. You select a page or post and there will be an Elementor button that will show up and allow you to build using Elementor.
Where Elementor really shines is the use of the template function which has been overhauled several times. The template function really is one of the better functions inside Elementor.
You can build things like 404 pages, achieve pages, headers, footers and now with the pop-up builder things like cookie notices. Elementor really takes over the theme of choice and allows you to fully customize it to your liking. 
Even their competitors are struggling to keep up with the sheer amount of control that Elementor gives you over the whole website. This is one of Elementor greatest strengths. You won't have to use additional plugins or functionality to get your website completely customized like you want.
What Elementor needs to work on
Elementor does so many things well it's hard to figure out what they are doing wrong but there are things they need to improve. The Elementor community is not without its own struggles and hurdles.
For one Elementor is becoming a rather bloated page builder. While it is not a problem yet, I think as time moves on we will see them having to go back and really optimize certain functions in the Elementor library to help bring better speed to sites.
As Oxygen pointed out in a video, they are also plagued by several divs are useless bits of code that only to bloat pages. While it's true that these divs cause little harm to a page, it's just an eyesore. People want clean and crisp code which functions well on all browsers.
Many people on the forums have also seen several plugins that do not play well with certain parts of the builder. Elementor just addressed this with a safe mode which is a very useful feature but also tells you they are trying to cut down on common problems.
How to use Elementor
To use Elementor you can download it from either the WordPress respority for the free version. If you are looking for more functionality, then you will need to purchase pro. The pricing for Elementor competes with other builders and they give you enough functionality you can do what you need to do.
I enjoy using the PRO version because it cuts down on the number of additional plugins I have to use. But you might not have the same concerns I do since I focus on web design and development.
Once you have loaded a page with Elementor, you will find a bar to the left side of the screen that can be closed or opened depending on if you want to see the builder or not. It's important to note that pages, pop-ups, templates and posts all look the same. The options are very much alike from page to page.
If you scroll down the page to the left, you will be greeted by a number of widgets for the builder which include things like native WordPress features and also all the things most people will come to know and love. They have a large library of widgets which makes building a page a blast because in most cases they have a widget that can do almost anything you can think of.
At the bottom of the widget list you will find things like revisions, responsive mode, settings, navigation and more. Responsive mode allows you to change things like break points which is the point at things shrink on a website for small device screens.
Navigation is a unique feature that allows you to see the dom tree of the website. Similar to that found inside Oxygen, this allows you to move sections of the website without having to find the handles. If you have a strict naming convention, then this makes this whole process much easier.
The revision function is something that is very impressive as it allows you to go back and look at a history of the page. If you make a mistake or you need to go back several changes, you can do that.
Towards the top of the page options will greet you such as page options. They also have several options such as default colors, fonts and the color picker. These options will help you to globalize your website by completely customizing things such as font type and sizes as well as colors. I hope they will add more functionality to these items to make it much easier to make changes on the fly.
Using Widgets inside Elementor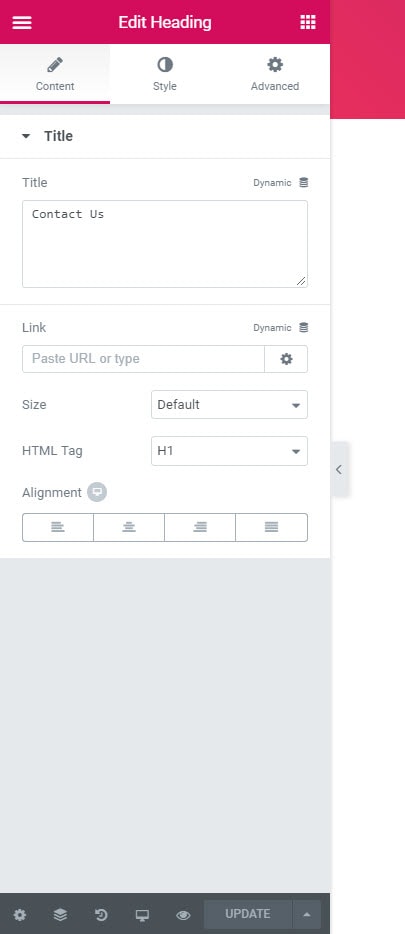 Each page, posts or template is laid out using pages which allows you to structure your page using divs in order to make the layout work. This is another place that Elementor could improve with so many other options on the market such as flex box and others. Using divs to do layout is becoming a thing of the past.
Once you are inside the widget, you will see at the top the options will change. You will get a list of options for the following:
Content: Is the content inside the widget, while these will change from widget to widget they most stay the same they do have different options. Each widget has varies and most of these are described in full detail on Elementors website. It's important to note that content does not allow you to adjust things like color, font, etc this is often found in the next section.
Style: Will cover things like spacing, font sizes, colors and such. Each style like above will vary from widget to widget but many have a lot of the same styles so once you learn one, you know how most of them work. Things like borders, drop shadows and all your font option can be found in here.
Advanced: Advanced is a tab that can be tricky. It has several options such a padding and margin which are very helpful for making sure things look great across all devices but it also has scrolling effects, background, border, responsive and many more options. This will rarely change as all the advanced options are standard across the builder.
Expanded functionality can be found in a number of addons that Elementor has. We will discuss this below.
Expanded Elementor Widgets
It's not shocking to assume that once a page builder gets huge, that people will want to develop for that page builder as a way of making an income. Elementor is no different since hitting the 1 million active installs development has ramped up.
There are now several companies who work with Elementor to include additional widgets that allow many add-ons to the builder.
Crocoblocks: This is one of the biggest add-ons for Elementor and combines a theme called Kava Pro and 14 additional blocks that add hundreds of extra widgets to Elementor. Each one can be installed separately as not to bog down your websites with unnecessary code. This truly is one of the best offers for Elementor that is on the market.
Elementor Extras: This is another expanded option for Elementor. While they do not have the bells and whistles that Crocoblock has included with their license they still have a number of very useful widgets. I have never used Elementor Extra but I know several people in the Facebook group who really enjoy it.
Ultimate Addons: This is a plugin from the same people who work on Astra which has a solid reputation. The Ultimate Addons give several plugins that work well with their theme including templates which you can download and install from their system.
How does it compare to other builders?
Oxygen: Oxygen is the closest competitor to Elementor as far as I can see. Oxygen offers a full page building experience that rivels that of Elementor. However, Elementors overall experience is much better than Oxygen as a whole. The Finder is really a feature that Oxygen desperately needs in order to competite with Elementor.
Divi: Elegant Themes had the king of the page builders a long time ago but now that time has passed and broken promises have happened Divi has taken a fall. Divi still does not have a full page builder yet which is sad considering that Divi was the king and still is to many people in the WordPress market. Divi promised us mid late year that we would see a full theme builder, over six months later it still hasn't happen.
Beaver Builder: I don't know a whole bunch about Beaver Builder but I know from a lot of Facebook groups that Elementor recent additional have put Beaver Builders in its place. It has a lot of following and decent amount of add-ons but Elementor keeps releasing new add-ons and content that kill the Beaver Builder offerings. Not to mention Beaver Builders pricing isn't as competitive as it should be.
Brizy: Brizy is the new kid on the block promising to take down Elementor by a notch. The problem is the production cycle of Brizy has really slow down. Not to mention each and every time there is a new update, it commonly breaks something on the page builder. So overall, I would say Brizy has a long fight ahead of it. It's not just trying to beat Elementor, it's competing against itself with slow production schedule.
Conclusion
I think that Elementor has one of the best offerings of any page builder that is one the market currently. I can not recommend it enough. It has stable updates and an offering that makes it very attractive for anyone who is interested in entering the page builder WordPress market.
If you are interested in learning more about Elementor will be be doing tutorials as well as comparing other page builders that work with WordPress.