When you first work with WordPress it often sticks you trying to find a decent theme. I ran into the same problem when I worked with it.
In this article we will talk about a popular theme, OceanWP.  OceanWP has really made a name for itself in the theme category of WordPress. We are going to look at the specific things that OceanWP does well and things that I think it lack as a theme.
In this depth review of OceanWP you will learn how to use OceanWP, what type of extensions the theme uses and what else it can do.
Disclaimer we make affiliate commissions off links inside this article but OceanWP is one theme I have used on many projects. I fully back OceanWP and I use it.
A brief history of OceanWP
OceanWP changelog only goes back about two years but you can be sure that the theme has been around much longer than a lot of other themes on the market. The guy behind OceanWP is Nicolas who was unhappy with themes on the market and so he built his own.
OceanWP has grown to about 300,000+ active installs according to WordPress and is one of the most popular free themes on the market.
OceanWP overview
Before diving into the full review of how things work, I want to point out what OceanWP does right. There is a lot to love with this theme and I think the team behind it does a great job.
OceanWP has several add-on plugins which come in a bundle that can be purchased either yearly or lifetime pricing depending on the sale. The prices of OceanWP are on par with other themes on the market that offer extensions to their WordPress theme.
One thing that really makes OceanWP stand out above other themes is that so many pieces of OceanWP are free. Almost nothing is hidden from the end users which makes for a much better experience. Some themes will not allow you to customize certain aspects of a theme but not OceanWP.
Also the add-ons feel fantastic with this theme. While with main stream builders such as Elementor or Oxygen you find that there is little you need above a pro subscription to their licenses, other builders that lack the features can rely on OceanWP. They make up a lot of the ground with some solid extensions that extend the functionality for any page builder on the market.
The last and final thing that really makes OceanWP stand out is that it is stable. Updates come out on a regular schedule and new additions are always right around the corner. This development cycle makes people feel more stable than if they bought a theme with no new additions or changes made to it.
What features does OceanWP include for free
Unlike many things such as Astra and other big ones, you will find almost everything you need in the free theme. Certain key features stick out more than other such as the ability to arrange your blog layout the way you want, this feature is normally reserved for a pro license rather than free.
OceanWP also allows customizing through the customizer of things like headings, adding fonts, and much more which is a great for developers. OceanWP also has a number of free extensions which don't cost a thing to add to your website.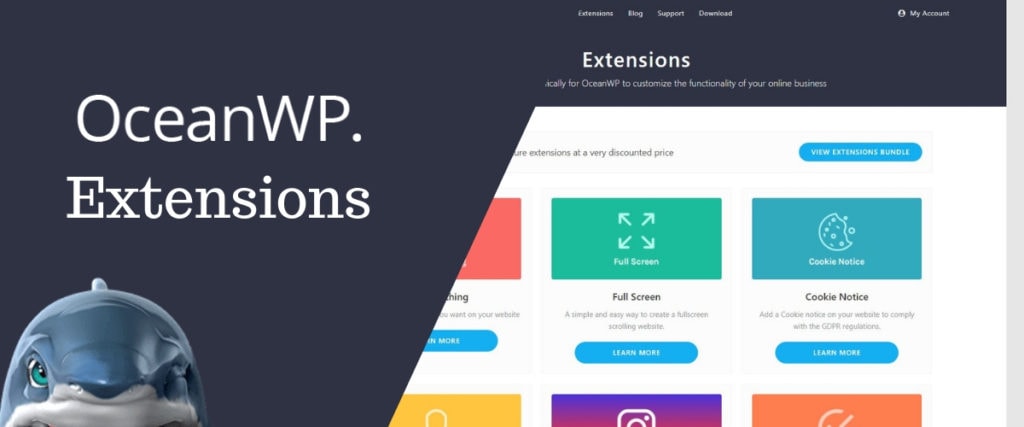 Here are just a few of the free extensions that you will find with this theme:
Sticky Anything: Allows you to make anything sticky meaning that as the page moves this object or section will not. Very useful for someone looking to do some marketing on their site.
Modal Window: Create a window that pop-ups on command and allows you to put things inside of that window through your builder or just using OceanWP.
Post Slider: This one is just useful and nicely done, create a slider of your most recent posts. The design and layout of this slider is really well done and the animations are coded well.
Custom Sidebar: This allows you to create a sidebar anywhere on the page that you would like. It also gives you the standard controls of a regular sidebar. I would argue that is the least useful feature on the list since sidebars are becoming a thing of the past.
Product Sharing: Add social share buttons to your product pages. It's a nice addition I wouldn't say is the most useful but certainly not a bad free add-on.
Social Sharing: This works much the same as the product sharing but it works for the blog.
Oceans Extra: This is a really good plugin that allows you all sorts of additional benefits beyond what the free theme offers. I would highly recommend that you install this if you want to install the theme itself.
How OceanWP Works
OceanWP works like many other themes work by using the customizer and plugins to make up the difference. While a page builder can help you, you could get away with just having OceanWP if you want to be budget friendly. The layout of the theme is static, but it's made to customize it.
Nick and his team does a great job of making sure that anyone with any kind of skill or experience can use OceanWP as their theme of choice without the fear of learning a bunch of code. The tutorials on the site are pretty indepth and help you dig into the theme.
Support is also great at helping with those questions about customizing the theme and really bringing it into your own space. 
Inside of the customer you will find a number of options for the following:
Site Identity: This allows you to add a logo to your site which also includes options for retina and favicon.
Colors: This allows you to customize the basic color scheme of a website and includes some global options that make building a website easier.
Menus: Are standard menu options which allow you to create WordPress menu's without going through the standard WordPress options.
Widgets: Is for areas on the page that you would like to use widgets to create or customize. This can be very useful for people who do not use page builders and other customizers.
Homepage settings: In here you will find the settings for the homepage which allow you to set a certain page for the homepage or a custom. This is very standard among WordPress themes.
Additional CSS: This is another standard thing that you will find on themes. Rather than changing the CSS through a plugin or making a child theme, you can add code to this area to make changes.
General Options: Under general options you will find things such as general styling information, forms, 404 information and much more. I would go over the settings but you can find all this detailed in OceanWP documentation which lays out what each option doesn.
Typography: Is just what you would think it is, fonts and sizes. In here you can unify your site using font sizes to make sure you site is using the correct font.
Top Bar: Top bar is a bar that will appear at the top of the page. Some people like using this for things like phone numbers or social media depending on your preferences. This is more common for certain types of businesses but not other types of businesses.
Header: Is a section that allows you to change your header. If you want to use a certain type of header, then this is the place to change that section which can do things like transparent header as well as sticky headers for pro users.
Blog: In the blog section is where OceanWP really shines. You can customize the layout of the blog and even move things around like your featured image and much more.
Sidebar: This is a section for those people who are interested in using a sidebar for their site. It will allow you certain settings to customize that sidebar.
Footer Widget: A footer widget is an area at the bottom of the page which allows you to customize the bottom of the page before the copyright with information pulled from the widget area.
Footer Bottom: This will allow you to change things like the copyright section as well as a few other footer options.
Things that OceanWP could do better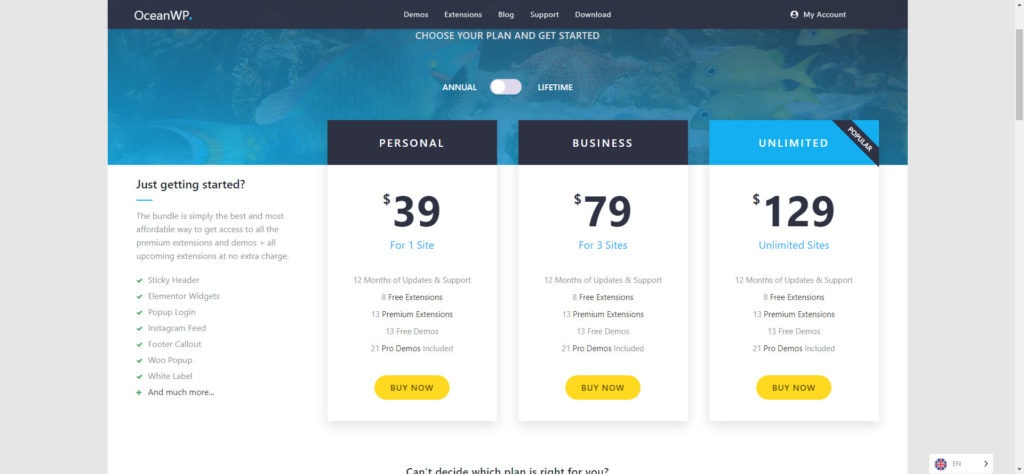 OceanWP is a great solid theme for any WordPress website however that is not without its faults. OceanWP is not run by a giant company and it shows when it comes to support. While support is not lacking, it isn't a corporate level which makes it feel like you are getting your monies worth out of the support side.
Another thing is that in running speed tests with OceanWP, even with things like Extra to turn off certain options it just is not the fastest. One could argue that, that title isn't a fair title to pit things against but in this day and age, speed rules. OceanWP tends to rank at the end of the pack in terms of speed with things like Astra, GP, or others.
OceanWP also suffers from what I would call pricing overload. There is a sale for every holiday and day of the year which makes sales feel less special than they could be. Still the pricing stays pretty much the same even through the sales of the week.
It for certain needs better extensions. While the extensions that it has is great one of OceanWP main supporters is Elementor and they have really knocked the wind out of the sails with all the additional functions they have added to Elementor. There is a good bit of redundant extensions if you have pro of Elementor. OceanWP would be wise to look at what's lacking and then capitalize on that.
Conclusion
While OceanWP isn't the best theme on the market, hint there is no best theme. It certain is one of the most stable themes with the best options. I would consider it a solid theme that allows you enough customization in order to keep your website running smoothly.
I would recommend and I still do use OceanWP for client sites and I consider it on of my goto themes. If you are interested in learning more about OceanWP we always do tutorials and all sorts of reviews. Please check us out and learn more about all things WordPress.