When you first work in web design, you will often hear about Divi by Elegant Themes. This was one of the most popular page builders of its time but has sense been dwarfed but it's competition.
In this article we will talk about Divi, why it may or may not be the right solution for your project. We will also discuss how Divi stacks up against the competition in the form of things like updates, limitations, pricing and so much more.
If you have ever wondered if Divi was right for you then you have come to the right place.
Technical Details
As with all of our tests, we include things like the build version of the product and WordPress information. This is helpful for you when you are making your decision later as products will often be updated overtime, so certain details might differ from what you see on your screen.
WordPress: version 5.5
Divi: version 4.6.3
Hosting: Shared Hosting Environment/Local Hosting
Overview for Divi and Elegant Themes
Elegant Themes which is the company that created Divi was founded over 10 years ago. They have team members scattered across the world. While Elegant Themes started out making themes for WordPress they quickly developed Divi which was an all in one WordPress solution.
Originally when Divi first launched it was not original, page builders had been around for sometime. But Divi brought an elegance to the page builder community that was unheard of. It was a different product that offered so much customization that most things on the market could not compete.
Then you threw in Elegant Themes decent support and you had a product that many people built their businesses and livelihood on. That's not a small feat for any software on the WordPress platform.
It's one thing to spend $49 for a yearly license or buy something you might need but Divi really made a giant splash. The community grew and grew and with it so did the problems.
Divi and Elegant Themes has never been in a bad place from where I sit but have had a host of issues which I think are problems made from people who might be out of touch with the competition on the market.
Below we will discuss why choose to Divi and why there might be better alternatives.
How Divi works
Divi like many other page builders on the WordPress market has a visual builder and back end builder. Divi 1.0 was pretty revolutionary in the sense that the builder was very advanced for the time. When Elegant Themes originally released Divi it was clunky, but it worked.
Elegant Themes quickly established itself as a company that pushes forward with updates quickly and puts new features on Divi much more quickly than other companies. This lead to huge problems but for the time the community loved it and cheered.
It didn't take long and Divi quickly took over the 1 seat for page builders as the builder of choice. It was about this time the people noticed cracks in the way Divi worked.
Divi works the same that many page builders work using a back-end (which was the industry standard) and now the more recently front end which is more visual. Divi to keep up with things like Wix or Squarespace developed a front end editor which now allows everything from animations to z-indexing.
Novices of web design will find that Divi offers a selection of modules to use on the page which cover many situations. As a matter of fact some would say this is one downfall of the software. Divi is struggling at finding a ground between someone who is a developer and someone who is doing web design on the side.
Still Divi has all the same features of things like Elementor or Beaver Builder with a few things that have been improved overtime such as dynamic content, animations and even things like experimental CSS which does not work in all browsers.

Why Progress with Divi has become a problem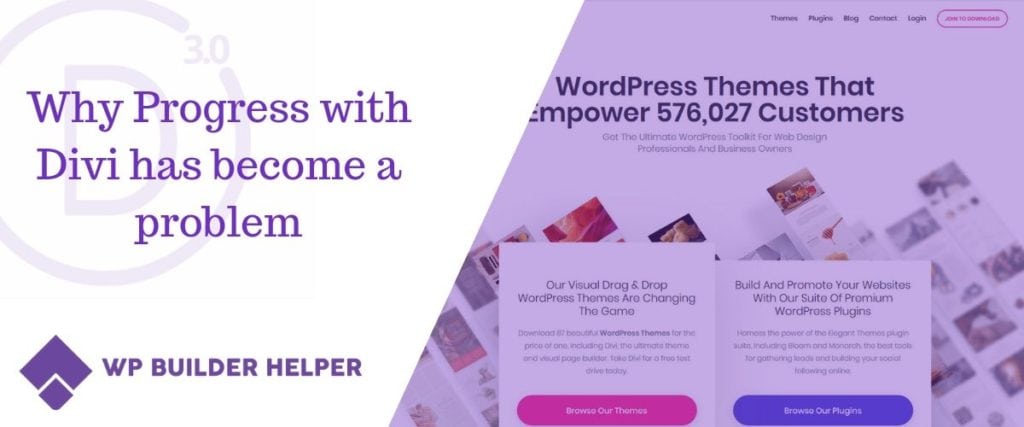 At some point Divi and Elegant Themes began choking on the number of support tickets. People would flood the forum with tons of complaints about waiting sometimes two weeks just to get their message read by Elegant Themes support staff. Growth had lead to some giant growing pains they would need to hire extra people for.
Still Elegant Themes recovered from this pretty quickly and could change up their support structure which lead to a much better experience. Even today Elegant Themes offers one of the best support structures of any page builder on the market because of two facts: Learning from their mistakes and content.
The number of content creators who have contributed to Divi is giant. As a matter of fact I would say there's probably not an issue that someone has written or made a video about when it comes to Divi. There are people who have devoted their whole life into just building Divi sites.
While this might seem like a good thing there is another side to the coin which is that, so many updates means tons of broken sites with every update. Divi is notorious for being one of the page builders with the worst testing for updates and making sure things are compatible with other plugins. They do not have a great track record of making sure that their updates are stable and working properly.
Throw on top of this the fact that Divi has made some giant promises about what's coming that never came and you have a recipe for frustration. An example of this would be the header and footer builder. While this is native in most page builders now such as Elementor and Oxygen, Divi still does not have this.
The problem with this is not that Divi doesn't have features of other builders, it's the problem that made a promise a long time ago and still to this day that promise hasn't been kept. Throw on more fuel on the fire to the fact that page builders like Oxygen and Brizy which are relatively new to the game already have these features and you are in big trouble.
Another thing that Divi has struggled with is bloated of the plugin. In WordPress speed is a constant issue because of people overloading their sites with too many plugins or worse yet plugins that are not optimized correctly. I wouldn't go as far as saying they do not optimize Divi, but it is not as tight as it could be.
Oxygen did a speed test which you can watch here and a few others. I have run independent tests and Divi ranks last on each one that involves speed; it requires a lot of tweaking to make sure you site works fast.
But with all this said you are still interested in things like tests which pit the builders against each other. Look below to find out how Divi ranks compared to other builders in the market.

Divi vs Elementor

The biggest threat to Divi from my opinion has been and will be Elementor which has an equally huge following. Not to mention that as newcomers like Oxygen and Brizy have come out Elementor has responded in kind with features similar or of equal importance.
The thing that really pushes Elementor forward are things like the pop-up builder, header and footer builder as well amazing animation controls. Divi also has some great animation options but Elementor really made sure that their animations are light and don't mess with the user experience as much as Divi's which just continue to add to the bloat of the builder.
One place that Elementor does not win is price. Divi has been a long-standing builder which allows a lifetime license. Some other builders complain that is not an optimal way to run the business but Divi has survived with no problems. As a matter-of-fact Divi has just grown in size over the years.
Still the lifetime license makes a difference for lower end designers who might not charge as much for a website. Elementor hasn't moved and has just announced that they will limit unlimited licenses down to 1000 websites. Which makes some people shake their heads since Elegant Themes seems unphased by giving people unlimited licenses.
Another place that Divi really kills Elementor is the number of 3rd party add-ons which Divi has a massive market for. You can find so many add-ons for Divi it's almost unbelievable. It's spawning its own micro market which people are successful selling. Elementor doesn't have nearly as much in terms of a following.
With all this aside, Divi is a perfect solution for a business that would rather pay for an unlimited license and wants to control their website without the use of a designer. So if you want to do DYI website design then you could go with Divi and I can't argue, there are much worse alternatives.
Overall, I would give the edge to Elementor since it is better optimized and gives you a decent offering. It comes with a bigger price tag but honestly, it's not that expensive. My vote goes to Elementor until Divi does two things: one improves the coding problems mentioned above and two adds a header and footer builder.

Divi vs Oxygen Builder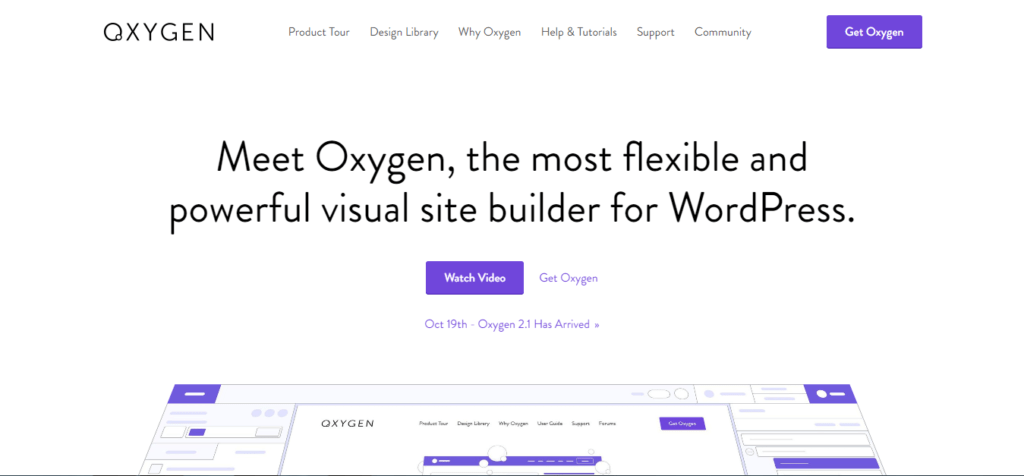 Oxygen is a builder which has made a name for itself by pointing out the flaws in the current page builder market. Soflyy the team behind Oxygen is obviously much smaller than Elegant Themes but they have made some plugins which some people would call important in the WordPress community.
Support wise Divi has an edge over Oxygen's much smaller offerings for how fast you can get supported and what they can help you with. Still Oxygen's support is not terrible by any means but it feels like a much smaller product compared to Divi.
Another place that Divi really fails in my eyes is how bloated the code is and how poor it does on speed tests. Louis has made specific videos detailing all the problems and Elegant Themes has yet to respond to these questions. It's clear that Louis knows his product, and he is punching holes through Divi's offerings by showing non-coders the issues.
One place the Divi is lack luster is the fact that everything is controlled visually or by sliders which is not bad. But Oxygen clear knows it a page builder for developers, you can use it if you are not a developer but you may get lost easy. Divi has struggled with an identity crisis, it doesn't know if it wants to be a Squarespace or a page builder.

Price is another place that like above, I think Divi has an advantage. Oxygen has mentioned several times that their unlimited pricing is going away and once it goes away, it will most likely follow the same plan as Elementor. That makes Divi much more attractive of an offer regardless of the problems mentioned above for the price. We still don't know what Oxygen will offer in terms of price but I will be interested to see.
In the battle of Divi vs Oxygen I would have to give an edge to Divi for people who are less familiar with code and for people who are solely web designers I would highly recommend staying away from Divi, it's too bloated and has far too many problems. Still, I would never hand an Oxygen site over to someone who is looking to tweak their own designs, it's just a much harder process than what Divi offers.

Divi vs Brizy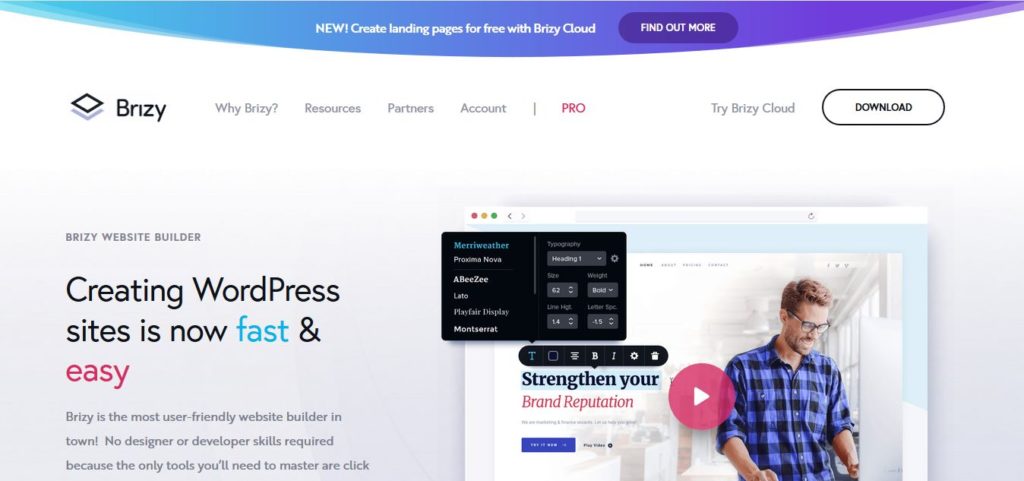 Brizy is relatively new to the game since it really has had little chance to mature into a full page builder. The community behind Brizy is much smaller similar to Oxygens but I would consider it only a fraction of what Oxygen has. Problems with updates plague Brizy similar to Divi so they are on the same footing.
In terms of price Brizy has the same issue as Oxygen, since the plugin is in beta it's hard to determine how competitive they will be with their product. So while both offer lifetime licenses that won't always be the case.
My biggest complaint from a web designer stand point is the lack of updates to the builder. While they look like they push them out constantly, you will notice a trend of many days go by with zero idea of what is coming next. The company pushed out a release map and then has bounced around from project to project even including new projects.
This, by itself, tells me that the company is struggling to find a market that will take on the powerhouses such as Divi or Elementor. This is one of the easier fights to rank since I Brizy has a long way to go in my book from making their plugin production ready which it isn't it's a beta product.
So I have no problem recommending the established Divi over Brizy. Divi still has all the same problems with broken patches and such but you can't deny the community, support and price are just as much better than what Brizy is offering. Brizy's UX/UI is superb, but that hardly beats all the other features that make Divi what it is.
The future of Divi in WordPress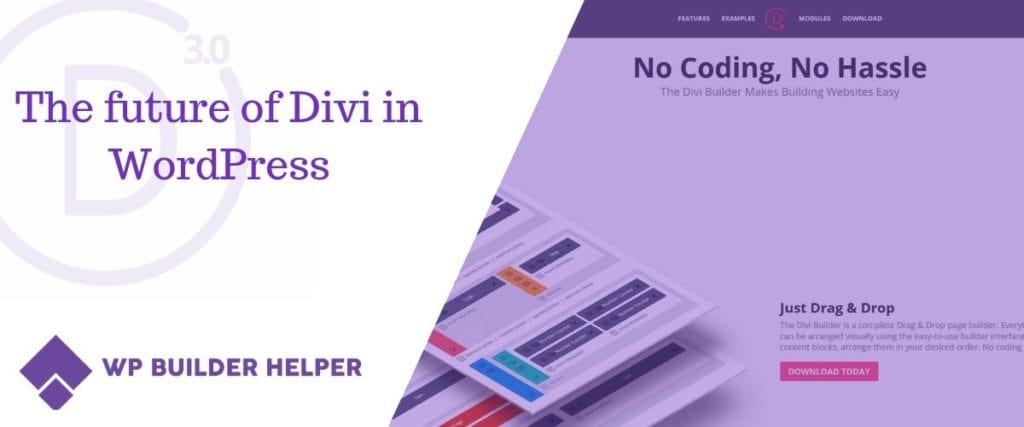 It's hard to think Divi will ever fail or even change their current offering since they are doing what is working. But then you take a hard look at the competition and say, why are you behind? Fact is, the leader can't always be the leader of the pack.
Just as Divi has fallen (at least in my eyes) from the mantle of king of page builders others will raise and fall into the same trap. Divi has some ground to make up since they have lost much of what made the original so good but it can happen.
My word of advice to anyone in Elegant Theme management is open your ears to the community. Too many people know your plugin is bloated and has too many issues. You need to fix those problems and keep two promises you make. Don't put out a video of something that a year later still hasn't happen in the case of the header and footer builder.
Divi is far from being out of the game when it comes to WordPress or page builders. Many people would argue that I am wrong and all the complaints are likely super fiscal but the community has spoken. I would never stop someone from purchasing Divi, it's a decent product. But decent is as far as it goes, Elementor is an excellent product. If I have a choice and I do why would I buy a decent product over an excellent one?
Related Questions
Why does Divi pricing so good? Not sure the answer. This is one place that Elegant Themes have never screwed up. They stick with their pricing and it works, and it shows because Divi has never slowed down. Business wise they seem far more stable that others in the page builder market. As others have adjusted Divi has stood its ground and continued to offer very flexible and stable options for anyone looking to build a website.
You keep mentioning that Divi is bloated can you explain why this is important? Google has made a very strong stance against websites that offer a bad user experience to the end user. While Divi is far from offering this, you don't have to look very far to notice that it is very hard to have a divi website that produces negative results on speed tests. The longer it takes a website to load the more Google pushes you down on SERPs. And while someone might not be worried about this, they should. Divi typically puts things on the page that aren't even included on the page because of this, it's hard to say it's not bloated.
Who do you think Divi is right for? As stated above, if you do not want to hire a designer then Divi is the product for you. It's one of the easiest interfaces with lots of options without you having to know a single line of code. You can just move sliders and use their interface to change anything you need to change. Lots of support make it a great choice for businesses of all sizes and shapes.
What is your future outlook for Divi? To be honest, it's middle of the road for Divi. The team behind them continue to push updates out for the massive builder but we have yet to see any major changes that shake the foundation of Divi. Divi 4.0 was basically just an update to make sure the builder had headers and footers that other builders had already had for a long time.
Conclusion
I hope you enjoyed this review of Divi, while we did not dive into how the program works I doubt you will have an issue finding information on that. As Divi makes changes, we will update this review to reflect things they have fixed.
Divi is not my go to page builder with things like Elementor and even Oxygen being available. But it is one of the bigger ones is on the market for people to use. I would call Divi a decent mid ranged page builder but because of a lack of concern for competition, it has fallen off considerably when you are looking at what newer page builders are offering.
If you are interested in more page builder reviews, you can find them here where we cover information about WordPress and tutorials and other helpful information.