Anyone looking for page builders in WordPress will find that there is no shortage of builders. They have many of them and they all do different things and yet something's overlap.

In our review today we will look at Brizy. Brizy is a brand new page builder that came out late last year. It's a page builder I think should be on everyone's radar but yet, it's not ready for prime time.

In this article we will discuss some pro's of Brizy and also look at some page builders biggest flaws. Get ready because this is going to be a very bumpy ride.

It's important to note, I was not paid this review. I paid my own money for Brizy, this is my own results from using the builder.

Technical Details
Before we jump into any of the details of how the page builder works, it's important to note some technical details. If you find that results are different it could be due to an upgrade or some other reason that's not listed. Keep these things in mind while we go over this review.

WordPress: version 5.0.1
Brizy: Free version 10.55 and Paid 0.0.16 (This is very important)
Hosting: Shared Hosting Environment/Local Hosting
Overview of Brizy and Themefuse
Brizy was released on May 10, 2018. 

Brizy was created by Themefuse a developer that has the Unyson framework. Themefuse started December 6, 2010. Themefuse made a name for themselves on the Evato market place.

They have made a number of themes and plenty of sales to fund Brizy and bring it to the level that it needs to be. 

Let's take a look some problems with the company Themefuse itself and then dive into Brizy.
Themefuse an established theme builder jumping into page building
Unyson has been on the market for some time and is a Themefuse created a project to use with their themes. I learned about Themefuse at the same time I bought a license to Brizy. At the time the buzz was insane.
It shocked the page builder market at how good the interface to Brizy was. Still to today, Brizy has the best interface in terms of UI/UX of any page builder.  
Themefuse had proven that they are a good developer with a track record of building quality themes. Then they announced a lifetime license to Brizy which was more than many people could handle. Developers ended up the licenses, and the community grew.
Fast forward to today and now we are hitting some road blocks. Apparently the Envato market was just right for Themefuse because all the development of Brizy has really slowed down to crawl.
Back in beginning we were promised that pro would launch in September 2018. We are now at 2019 and there is no end in the site to when PRO will launch. If I had to guess, it would assume the next few months but the number of bugs has grown with each update.

Another thing that has really hurt the builder is that updates only appear to be partial updates as they are releasing features that are half-baked so to speak. Headers and Footers would be a prime example of this, they released it because the community wanted it but yet, it's not fully fleshed out leading to problems.

Overall, my opinion is that Themefuse was probably a great Envato theme builder but their sudden rise to fame in the page builder community has taken its toll.
Brizy, the slow moving turtle in the race to the top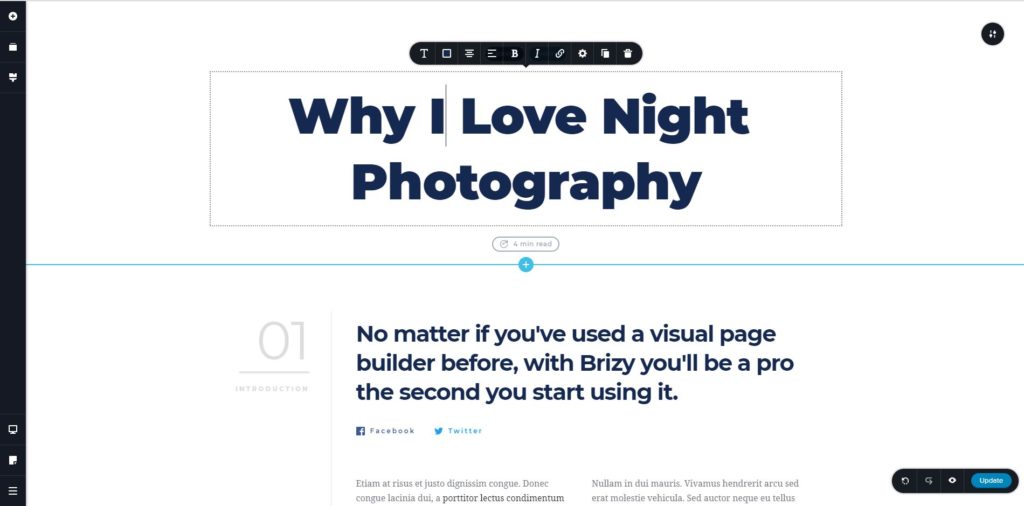 When Brizy was first released, it had a brand new way of handling images, a slick interface, it was fast, and even worked flawlessly.

Now we look at Brizy today and while there has been updates to PRO, the development cycle has really slowed down to a crawl. Over the holidays the team took a break and other page builders seemed to only capitalize on this type of laziness by releasing two and three updates.

Here are the dates of all the updates…See if you notice a pattern?
0.0.16: 9 Jan 2019
0.0.15: 19 Dec 2018
0.0.14: 6 Dec 2018
0.0.13: 23 Nov 2018
0.0.12: 8 Nov 2018
0.0.11: 3 Oct 2018
0.0.10: 3 Oct 2018
0.0.09: 1 Oct 2018
0.0.08: 22 Sept 2018
0.0.07: 21 Sept 2018
0.0.06: 17 Sept 2018
0.0.05: 14 Sept 2018
0.0.04: 7 Sept 2018
0.0.03: 4 Sept 2018
0.0.02: 31 Aug 2018
First before anyone says anything these are the updates just for PRO. This does not include the basic which I know also has had updates. I am just focusing on PRO because that is their paid model. 

So what does the above look like to someone sitting from the outside? I believe the company took on a lot more than they released and they now must backtrack to make up ground. The problem is now they have put this on the market, others such as Elementor (who released responsive image editing today) are now catching up with them.

They were on a roll and cranking out updates and I am sure things were breaking as normal when you do updates. And eventually they couldn't handle the stress and needed a break. The problem is most of these companies like Elegant Themes or even Elementor don't sleep.

So you can believe that while Brizy will be playing catch up for the next year, these builders will keep cranking out innovation after innovation which will sink Brizy further and further from the finish line. I had hope that we would see a PRO release at the end or beginning of this year. I now believe it will be mid-year before they are close to finished.
Brizy a technical overview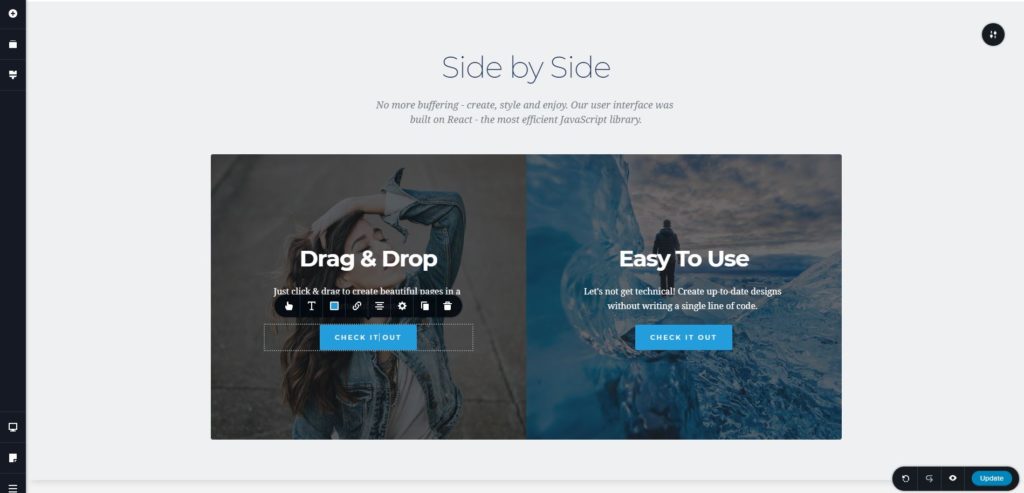 I've dived enough into the back story of Brizy but I have yet to answer how it works. 

Brizy interface and experience is buttery smooth. The builder loads quick, even faster than Elementor or Divi which is an accomplishment. However, because Brizy is still so new, I would expect that overtime this will increase the bigger the builder gets.

The modules that Brizy uses are great and have everything you can expect from a page builder. You will find most of the common modules.

Brizy builder includes dynamic content which is a nice addition to anyone uses the builder, this means things like page title, featured image and even other content from WordPress can be pulled into Brizy. My only caveat is that this is another place that Brizy needs work, the dynamic content is very wishy-washy in terms of how it works.

Where Brizy really shines is the clutter free environment. Unlike Elementor or Oxygen which frames the website in a bunch of border windows. Brizy sits on top of the website almost like using an Adobe product. Every click brings up menus that use can use to edit that item. It works pretty well and I've yet to really find anything close to it experience wise.

Brizy also has useful features similar to other builders such as global styles which allow you to effect websites by manipulating one area of the builder. This is useful for someone building out a big website. Elementor has this, and it's not as good as Brizy, Oxygen's global styling really puts all of these to shame but I think Brizy's future styling could be impressive.

Brizy has a lot of additional features slated on their road-map. The biggest problem being the production cycle of the product. Oxygen hasn't had the fastest production cycles either but it's consistent and normally does not break things. Brizy has had slower production cycle and even update breaks something new.

I can tell first hand another builder by the name of Divi has fallen ill to this type of update-break cycle and it's not pretty. Many designers have moved away from Divi. I would hate to see Brizy fall into the same trap and I hope the team behind Brizy really focuses on quality. This may be one reason the team slowed the updates in the first place but they never put out an official announcement.
The support behind Brizy is excellent. The team constantly communicates when something is broken and alternative ways around that problem. If Brizy really excels this is one area that they do a really good job of.
Overall, how does Brizy feel

In a sense, it's a breath of fresh air with a UI/UX that some people will just fall in love with. The community as a whole behind Brizy is strong although I would argue not as popular as others such as Oxygen. You run into a lot of newer designers in the Brizy community which could be the same as all the designers but Brizy seems to bring in users with less knowledge.

Still the builder has potential and if you had a question of my feelings for it, I would say "It has potential." The makers of it have publically stated that it would take a while to reach the level of Elementor. Since everyone wanted a lifetime license with Elementor level of quality.

I would say I believe we probably won't see that level of quality soon. Brizy has a ton of features and ground to make up in order to stay ahead of the game. The longer it takes for updates to hit the builders public releases the faster they will fall behind to the bigger builders.

Related Questions

What do you most hate about Brizy? The wait and see game is getting old. While they aren't at the level of Oxygen to release updates, their updates have been less than pleasing. The update chain never made sense. They released headers and footers something that should've been at the forefront of the builder.

Why do you think the Envato Market was a better place? Any of the big builders can tell you that people are sharks circling most of these builders. Look at Divi which has fallen behind on promises time and time again. The community may ralley behind them but that is short lived if you keep breaking promises. I think the key is to either do like Oxygen and do not commit to a schedule or stick to your schedule. Those are your only two choices otherwise, your mouth is writing checks that your ass can't cash.
I hope this review has been helpful to someone. We plan to do in depth tutorials later on down the road once Brizy has officially launched and worked out some of their bugs. I want to give it time to develop before passing a final judgement on the builder as a whole.