SEO is a highly debated topic with WordPress or websites. So when you recommend a product that is often a new contender to the throne it's a hard sell.
You'll find hundreds if not thousands of articles and videos on Yoast which is the king of WordPress SEO plugins. So what can this newcomer SEOPress provide you that Yoast can't? Learn more as we review and go into a detailed Analyze of SEOPress.
By the end of this article you will have a full picture of what SEOPress is offering and why you should consider switching to SEOPress for new websites.
Before we go into the details of SEOPress, I purchased a license with my money. This website uses SEOPress so you can probably already guess my stance but read below if you want to learn more.
Every website needs SEO
If you are creating a website for the purpose of having someone look at that content then you need SEO. I will not go into the ins and outs of SEO (maybe later) but I will talk about a product which can help you.
SEO or Search Engine Optimization is the act of taking words in an article or on a website and having those words rank in a search engine such as Google.com or Bing.com. The thought process is that both these companies are smart at ranking pages and articles and SEO is a push to make those articles or pages stand out from the crowd.
It involves using the correct tags, optimizing an article or image with certain keywords and a lot of things that could be debated in-between. Fact is, SEO is here to stay, and it will only get more important as the web grows and becomes more available.
So why SEOPress for WordPress
One of WordPress's biggest drawbacks is the lack of SEO out of the box. WordPress does not come with great SEO options built in and so most people need to choose a plugin that works for their budget or wallet. Not surprising the top SEO plugin is Yoast which gets most plugin installs from new websites.
However, just recently SEOPress was launched which is another alternative SEO plugin that is competing with Yoast. This isn't surprising as there are many plugins which also roughly do the same thing.
When SEOPress launched I was skeptical that it would live up to Yoast's amazing reputation and options but after spending time with it, I learned quickly that it was the SEO plugin for me. So let me walk you through what it does so you can compare it to Yoast and decide for yourself.
SEOPress first impressions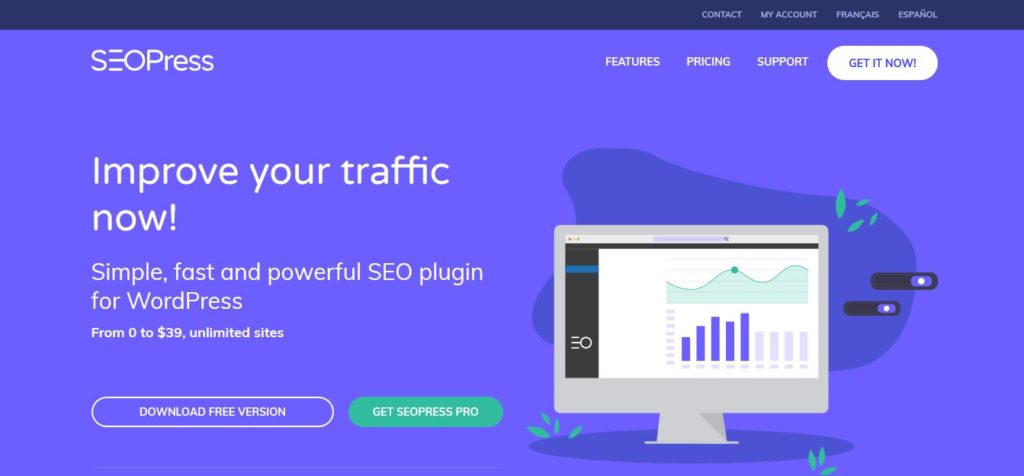 After first installing and setting up the plugin (they walk you through most of the details) you find it is very similar to Yoast in almost all regards (keep in mind this is the paid version). The plugin works just like you would expect allowing you to edit things like titles of posts and pages and meta description.
You've got options for XML site map just like Yoast, social network, connecting Google Analytics and also things like breadcrumbs. Anyone familiar with normal SEO knows these are staple things in an SEO plugin.
However, if you start digging you really find this programs strengths, here is a short list (probably not even everything this plugin can do).
Check websites on your server
Alexa Rank
Video sitemap
Easy digital Downloads
Local business
Dublin Core
Structured Data Types
Google Page Speed
Robots.txt
Google News Sitemap
Schemas
Redirections
Broken Links
Back links
Url Writing
HTAccess
RSS
Import and Export
Can you see why I now use this program? For those of you who may not understand the above terms don't worry we will dive into each of these below so you can understand just how amazing these are.
This simple plugin offers so much more than what other competitors offer I can't find a reason not to use it. It's just that good, there is too much that this plugin cover.
And I want to remind you this list is not exhaustive, if I had to go through the plugin with a fine-tooth comb this article could easily be a chapter in a book. There is just that options you can turn off or on using this. 
It's like a swish army knife for SEO and it helps you rank better without trying. So let's go over each of these options so you can understand what they do and how they work. 
At the time of this article I am testing SEOPress version 3.5.7.
The basics of SEO with SEOPress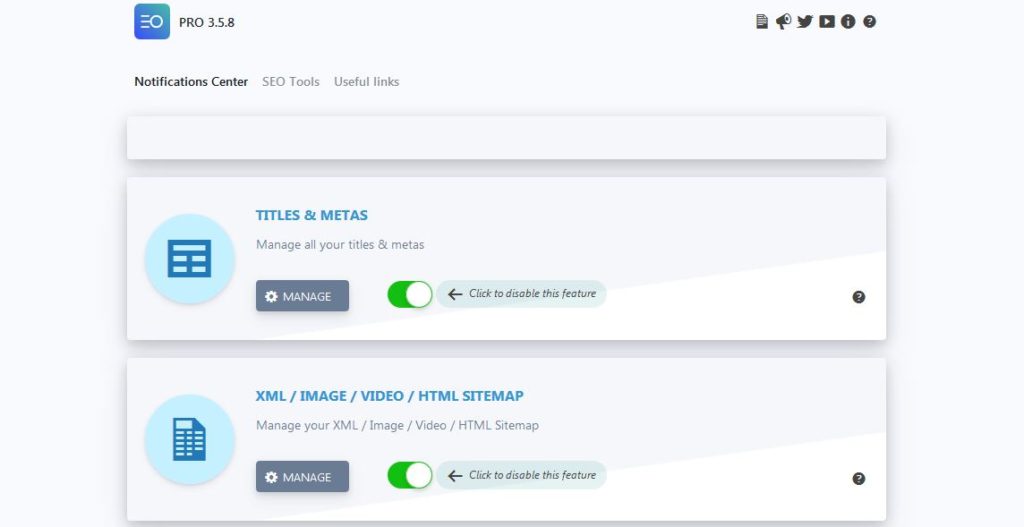 So almost all SEO programs offer you the ability to customize meta information which is the core of what an SEO plugin should do. Most of these you can edit with the free versions of these tools so this shouldn't come a surprise.
Often this plugins have paywalls which stop you from using the advanced functions of the tool by limiting what you can do and SEOPress is really no different.
So in your Titles and Meta you will see options for editing the title tags of posts and pages. You can also edit page descriptions which search engines use to determine what your page is about. These are all standard and I would say normal in terms of SEO. 
There are a few advanced options for certain configurations of websites but unless you understand SEO, leave this alone. I would also recommend that you leave the default settings the same unless you can craft a better title than what the default gives you.
XML/HTML Site map
After you are done tinkering with your titles and descriptions, it will present you with XML Sitemaps. These are a special file that bots search in order to find out what pages you want search engines to show to people. Sometimes you might want to exclude things like categories or certain pages from search engines. 
All of this works much the same as any other plugin on the market but where the magic happens is video. Because YouTube is turning into such a huge driving force for most people in terms of social traffic, having a video sitemap is a nice addition to a regular XML.
There are also several additional options in here which I would recommend that you leave alone or on default. If you screw up your sitemap, you stand the chance of not getting your website found by Google or other search engines. Clicking the wrong thing can cost you lost pages and lost SEO so when in doubt, just go with the defaults.
SEOPress also gives you the ability to make an HTML sitemap. This is to allow you a human sitemap that someone can view rather than trying to find your xml file. Humans enjoy looking through sitemaps just like robots so you may or may not want to include this. 
Social Networks
Social Networks are just what you would think they are, links to your social networks for your website or business. Not always but linking them will sometimes help search engines by allowing them to show their user places they can find you. 
Inside of this option you will find things such as open graph and twitter cards which are a nice way of saying when someone shares your site with Facebook or Twitter what shows up? This allows you to control the image and some other aspects of what happens when someone does this.
We can leave most of these options alone unless you know them then fill them in. They serve little of an SEO purpose they are just nice to have included in the plugin.
Google Analytics
Google Analytics is by far the most popular way to track who is coming to your website and what they are doing on your website. It's a free tool that allows you to track so much data that the EU had to put restrictions on what type of information they can collect, it's also a reason so many people use things like AdBlock.
This allows you to customize things like your Google Analytics account and how you want to track people. If you don't want to track people, then you can safely ignore this area but I think most websites want to know how many people are coming to their website. 
This also includes some information for how you want to track people and Google Search Console.
Advanced
In this tab you will find some meta option such as hiding WordPress and also verification for things like Google, Bing, Yahoo, etc. There is information to manage things like the appearance of a site and some security.
I would recommend that you leave most of this as default unless there is something you are aware you need checked.
Woocommerce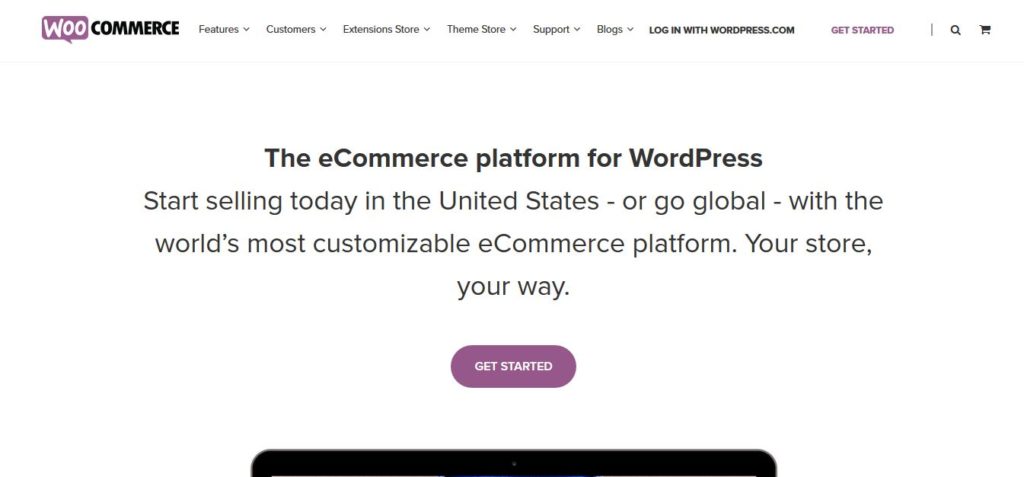 Once you have passed the advanced tab, we reach a section important to many people. Woocommerce is the biggest plugin with turning WordPress into a storefront. Many SEO plugins ignore Woocommerce which makes store owners frustrated.
SEOPress has included a whole section for just Woocommerce which allow you to no index cart, checkout and customer pages. They also include things like adding pricing meta and currency meta which is nice for getting indexed on Google for people are searching a product. 
Overall, these things are small but they are a nice addition to something which is usually not addressed by other SEO programs on the market.
Easy Digital Downloads
Just like Woocommerce this section focuses on people who use Easy Digital Downloads which is another big plugin for selling one off-products such as E-books and such.
You can include the same things as above such as meta information about pricing and currency.
Local Business
This is something most people who are new to SEO don't understand but SEO from something like Google maps requires some extra effort. Luckily SEOPress includes this with the PRO model which makes your local business look like a rock star.
They allow you to select our data type (this is explained in the instructions), Name of your business, business type and Image. These things you could say are unnecessary but they are in fact nice to have and every little you help a search engine with is something you don't have to do manually.
Dublin Core
This is a section that allows something to attach certain government meta descriptions to articles and pages. They are mainly used these by search engines themselves but can be good SEO to have them included. I would leave these turned off if you don't know what they are there for.
Structured Data Types
These are a way for you to provide information to a search engine in the form of Schema. Schema is a way of making sure that the information on the page are processed by search engines through the use of meta information on the back-end.
Things like recipes, articles, events, products and even local businesses are just some examples of things include in your schema. As someone who has little knowledge, I would pay attention to this because Google seems to give favor to those websites that include this information.
Breadcrumbs
These are a link that often leave a trail back to the starting place of where you just came from. While they favor things like blogs, store fronts and giant websites any website can use them. Google enjoys easy navigation for clients and customers and breadcrumbs are one way that someone can easily see where they are on a page.
I would recommend turning these on if your theme does not already have breadcrumbs installed. If you need to manually add breadcrumbs the process is simple. 
Google Page Speed Test
This allows you to see the score right inside the plugin useful for anyone who is looking to improve their experience for their customers. If you are not sure how this works run the test and see what useful information Google gives you about your website, you are likely to find things you need to change or fix.
Robots.txt
Robots.txt is a file that is normally found on every website which gives a set of directions to crawling robots. These are the robots which crawl websites to find new pages and posts.
This set of directions can exclude or include certain pages you want them to search or exclude things like private membership areas you would rather they not look at. I would recommend you leave this at default unless someone has directed you to alter it.
Google News Sitemap
This is an option to add a sitemap specifically for the purpose of making sure it's news ready. Unlike a traditional sitemap this sitemap has some options which enable you the ability to enter a publication name and exclude certain post types out of the publication.
Useful for anyone who is looking to start a news-based business or wants to be found by something like Google News.
Schemas
We talked about this subject a little above, what you need to know is that Google likes schemas. If you want to be found by customers, clients or search engines use them. I won't go into why you need to use them or what kind of effort it takes to get them formatted correctly, but it's something I would research.
Redirections
This is a unique part of SEOPress since the plugin itself can handle redirections. This can be useful if you have an old post you are pushing to a new post or just handling basic redirections. This is something you won't find with other solutions, this usually requires a third party plugin.
Broken Links
Yet again we have another thing that is amazing and just included with SEOPress. It will look through all your posts and pages to find broken links. This isn't the most useful for someone who is careful but once again this is a really nice to have a tool that allows you to keep a clean site.
Back links
SEOPress has a partnership with Majestic which is a back link service which cost money per month. It's nice if you already had an account but if you don't have one, there are cheaper alternatives. I would love to see SEOPress branch out and offer more options in this area. Majestic will cost you $50/per month at their lowest tier, which for many will not be worth it.
I'd recommend you skip this.
URL Rewriting
This allows you to edit the URL for search results. I would highly recommend you stay away from this unless you need to edit it but you should not.
.HTACCESS
This allows you to edit your .HTACCESS file which is nice but normally done with a back end Cpanel. This is just a time saver for someone who might need to edit their .HTACCESS file. Most normal people will not need to edit this and should not edit it, as it can break you website if used incorrectly.
RSS
The last setting in the list is the RSS which allows you to control your RSS feed or completely disable it. There some other options but I would leave this as default unless you know what you are doing. 
Content Analysis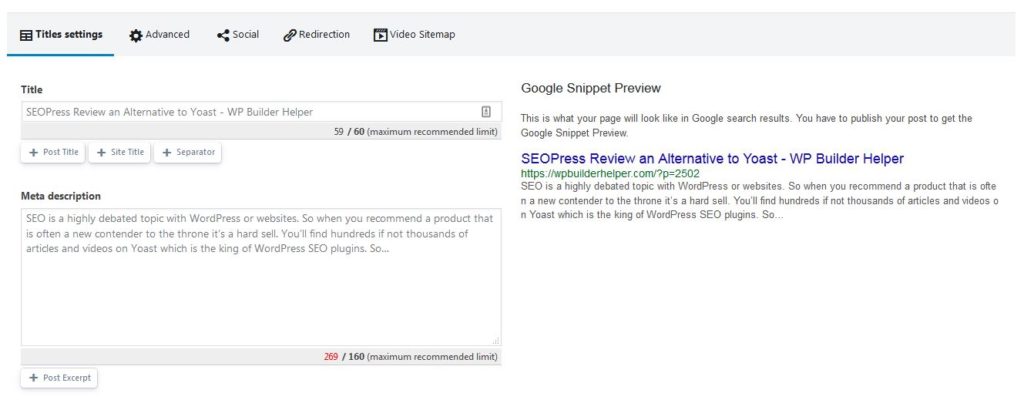 Like Yoast, SEOPress has a content analysis which can be found at the bottom of any post or page you are trying to edit. I will let you be the judge of how much you like it. Personally I don't think content analysis is worth a damn on any plugin. Most of the plugins are guessing what Google likes or using some basic facts that everyone already knows.
It's useful but don't follow it like it's the Holy Grail. In most cases when I wrote articles I have found that you don't rank any higher using these tools. They may not hurt you but they are not a secret formula to rank any higher than someone who writes good content for humans.
With that said, SEOPress content analysis offers some excellent other options such as target keywords, Google snippet preview and Google suggestions. Which is equal to Yoast in that respect. It's not as pretty as Yoast in terms of the design but it works much the same.
Pricing for SEOPress
This is really the area that SEOPress beats Yoast or any other SEO plugin I know of. Let's take a hard look at Yoast pricing and then dive into what makes SEOPress awesome.
So for this example we will use the premium for both Yoast and SEOPress in this example.
SEOPress has flat pricing of $39.00 per year for unlimited licensing, meaning unlimited websites which includes everything I listed above.
Yoast costs $89 for a pro license but where they get you is the add ons. 
Need local? That's another $69. 
Need video? That's another $69.
Need news? That's yet another $69.
Need Woocommerce? Yup, you guessed it. $49.
So by the time you are done, the grand total is $345 per year for the same thing SEOPress offers for $39.
The closest competitor for SEOPress is All-in-one SEO Pro which is $57 for 1 website. SEOPress gives you unlimited! So I'll let you be the judge but I can tell you my websites will use SEOPress.
SEOPress updates and history
I won't argue over the semantics about Yoast's already established SEO background. It is one of the most reputable companies that exists however that doesn't make Yoast prefect. 
What originally send me looking for an alternative was a mishap last year where people lost rankings because of Yoast. They came out with the information over a month later apologizing. I understand that mistakes happen but I was not happy with the fact that one, many people learned later down the road the company had a very "it's not my fault" approach to the situation.
SEOPress stays update constantly making sure that the plugin is update and working fine. I know little about the team behind SEOPress but I'd love to learn more.  Check out SEOPress extensive changelog that shows how quickly they resolve issues. 
Conclusion
I hope this review has given you enough background into the plugin to help you decide. I know there is several people are likely to bring out torches and burn me to stake because I don't use Yoast.
I always like to find alternatives to big plugins because companies often get lazy because of having a majority of market share. I feel that Yoast is they have no reason to charge $300+ for their plugin other than that so many people use it. 
Competition breeds innovation and I believe that SEOPress is a decent competitor that offers tons of value for your money. 
I hope you have enjoyed this article and if it interests you in learning more about WordPress or SEO check out our other tutorials which cover everything WordPress related. And if you have questions please share them below.