So you are thinking about buying a copy of Divi by Elegant Themes but you want to know, I keep reading that it is slow. If you are questioning buying Divi, let's take an in-depth look and discover the truth.
Is Divi Slow? Divi builder with no caching plugins or minor adjustments will grade poorly on most website speed tests you run. It ranks slower than many other page builders on the market. However, if you install a caching plugin, you can reduce some problems. Overall, you need to decide how much that speed matters to you.
If you want to understand we compare just how slow Divi to other builders, then see below where we did some basic tests. We also go over what is happening that is causing Divi to be slow. So if you are someone who bought Divi and might have regrets then this article will help explain what you need to do.
Why does speed matter with page builders?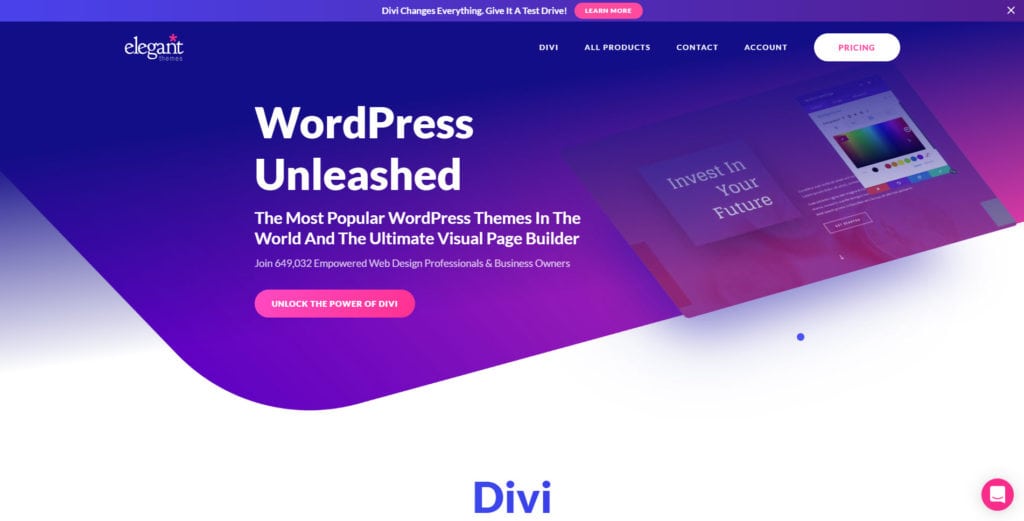 Page builders are a framework that help speed up designing a WordPress website. As page builders add more functions to the builder they will often run into speed issues. These additional functions will overtime slow down a website because of all the added functionality. 
If you haven't been living under a rock, then you probably know that Google grades websites by the speed. We often refer to this speed to as load time which is the time your website takes to load. The faster this number is the better your website ranks according to search engine trends.
Page builders have always struggled with giving people the functionality they want but somehow keeping the speed to a minimum. Divi has struggled with this problem as the page builder continues to grow. But as you will soon learn there are more things that cause delays to your website than just Divi by itself.
We consider any website over 3 seconds in load time slow for the modern site.
Divi's built in speed improvements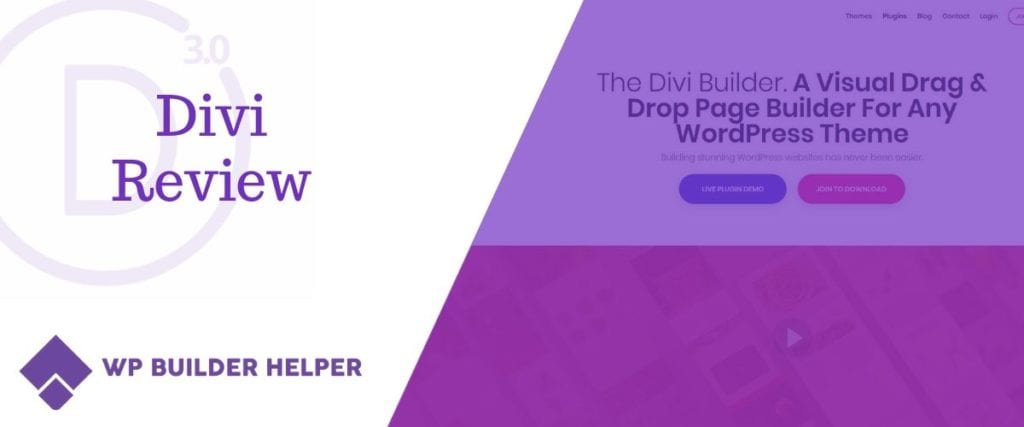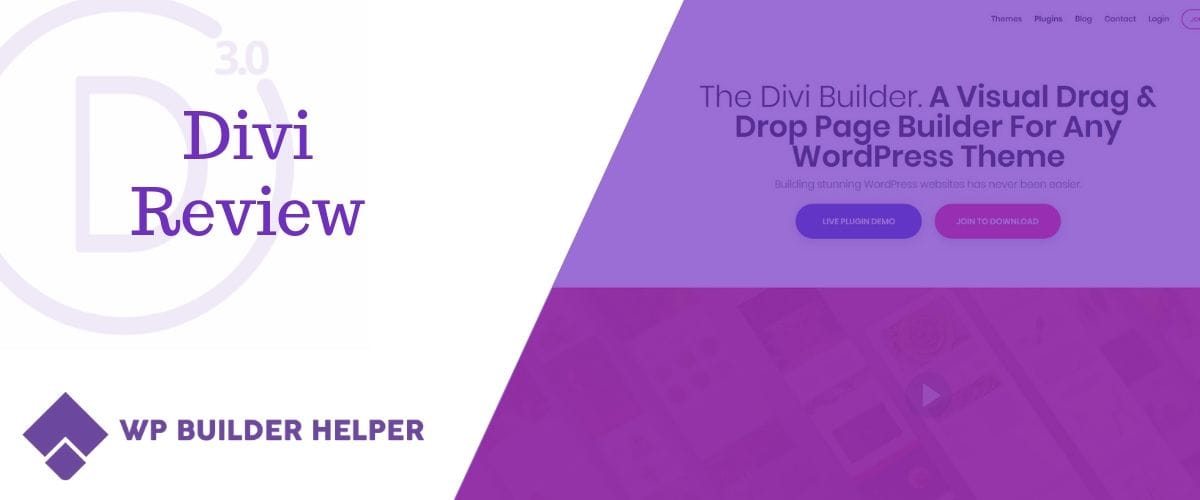 Divi over the last few years has had several improvements to increase speed. Nick and the team at Elegant Themes has always known of the fact that Divi needs improvements in speed. They have included many minor modifications to Divi's code which allow for minor speed improvements.
You will still need to use a caching plugin and follow some advice down below to improve your speeds. The more of these improvements you do to your Divi website the faster your website will be.
Most of these Divi improvements are in the back-end Divi admin panel. We can find the first improvement in the plugin options > advanced. Here you will find minify settings for JavaScript and CSS and some static file generation. While these are minor settings they make a difference in the overall speed of a website.
Why is Divi so slow?
You have to understand that Divi is one of the oldest page builders on the market. These updates that come out have built a huge tower of code. This code continues to be developed daily which is something that can slow down a website just by the sheer volume of the amount of code.
Below is a chart from a https://www.supadezign.com/ which is a company that does some excellent web design. The person behind the company Mike has broken down some data of the combined totals for CSS and JavaScript of some of the biggest page builders on the market.
As you can see from the chart Divi ranks as one of the highest. While this doesn't directly point to speed loss, it has something to do with the fact that the bigger the files are that make up the guts of a page builder, the more a website has to load. If you want to learn more, you will find I have linked Mike's website above.

How to fix a slow Divi website
There are several things that you can do to improve the speed of your Divi website and many of them are free. By tapping into using some additional plugins or services, you can change your website from a slow 3+ second load time to under 1 second.
The first step is to start with finding a decent host.
Finding a better website host for your Divi Website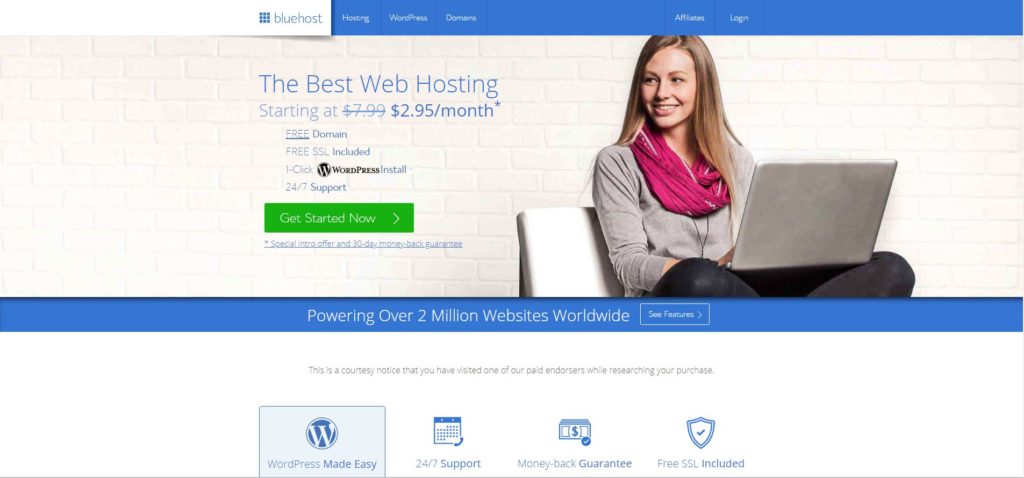 While this may not not come to a surprise to you not all website host are equal. In fact, many website hosts are slower than dirt and if you ask the public you will get varying opinions on who is good, who is bad and everything in between.
The problem is a good host will cost higher money than a cheaper host. You can find some web hosts are in the middle and offer a decent speed for a decent price but you'll never get something for nothing. So if you web hosts charges .99 cents a month for your service then there is probably a good reason.
You will need to decide for yourself who is offering a better deal but below are guidelines I like to use for most of the people who come to me looking for a website design. Note, these are my own opinions so just like every other designer on the planet these will vary wide and far.
For people with new websites and no budgets: (shared hosting)
For people with established websites and some budget: (WordPress hosting)
For people with established websites with lots of traffic and have no budget: (VPS/Managed)
This should give you a decent starting point and all the companies above are companies I have had great success with. Keep in mind that this will alter your speeds and while a bad host can tank your speeds, if you have a host is in the middle and you move to a more expensive host that doesn't guarantee that you get better speeds.
Improving your DNS through CloudFlare
If you have never heard of the service CloudFlare, then you are in for a treat. CloudFlare is a DNS service which helps website speed with a long list of website improvement built in to the free product. If you would like even more power, you can subscribe to their pro version which gives you even more options but for now the free will do.
All you have to do is go to Cloudflare.com. Follow the sets that are provided on the homepage and then within minutes your website will run through Cloudflare's DNS which will help improve your website speed. CloudFlare has more information on this but you should most likely use CloudFlare, there are very few reasons not to.
Database Clean up and Optimization
If you have an older website, then you likely have a database that has not been optimized. While this step will provide you the least amount of gain in terms of speed, it still helps. If you have a ton of old posts, there's a good chance you have hundreds of pages and posts revisions. This clutter can cost you speed.
Also optimizing your databases can speed up requests made to that database to make it easier to find stuff by clearing out old and outdated data which is not used anymore. I would recommend a database optimization plugin, they have tons of them in the WordPress directory just pick the best one and do a backup before you commit to it.
Optimize your Divi Images
This is one thing that can make a huge difference in your website. If you haven't noticed most websites are a combination of images, text, video and other multimedia with images taking the lion's share of that. These images uploaded to WordPress has be many megabytes which when you are trying to get your speed down are costing you tons of time.
This is one reason we see people optimizing images and video to make sure they are the smallest amount they can be. We have tested many image software and come to the fact that we enjoy. If you want an idea of how it ranks compared to other image software, check out this article.
Optimizing images should be a default thing that you do since WordPress won't do it for you. The more you optimize the better that load time.
Some other software we recommend
If you ask anyone who is designing websites you will hear of one of two pieces of software that get thrown around a lot. One is WPRocket which is an excellent program which can speed up your website without having to use the Divi options we listed above. Another is Swift Performance which I use and still enjoy, Swift is a little easier to configure. Both are great options if you want something paid that can reduce your overall load time.
Checking your results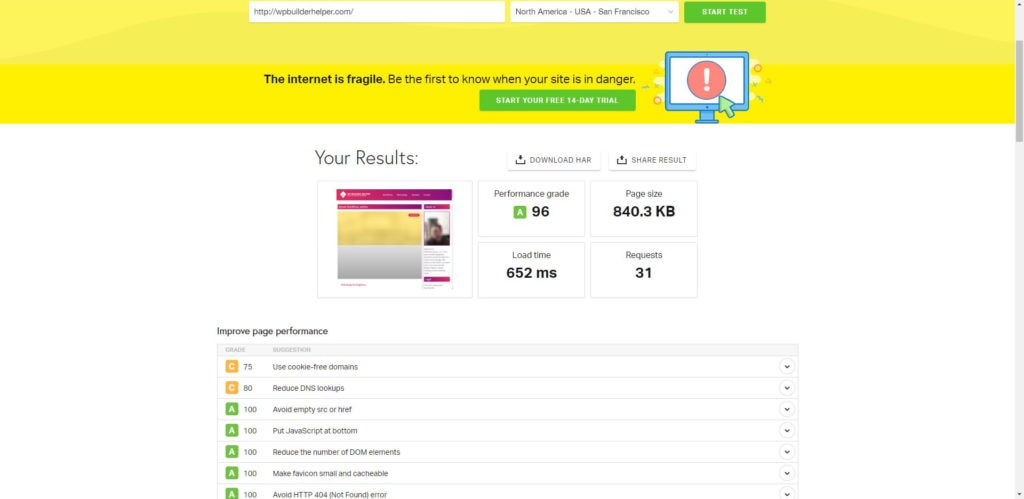 Before you make all these changes, you need to check the results of your website to make sure that this needs to be done. You have three superb options for checking your results with one of them being more critical of your changes than most.
The first option is Gtmetrix. The most important value you want to focus on is your website load time. Next would be the waterfall of your website which will point out things you can fix that are costing you time. The grade itself can be ignored as can much of the information because these are pretty statics but not something that matter. The speed of your website maters.
The second option is Pingdom Speed Test which is another test similar to the one above, I think Pingdom looks better but some people like Gtmetrics better because of how it tests your website. Still Pingdom isn't a bad resource.
The last option is Google PageSpeed Insight Test which is a test specifically created by Google to test your website speeds. You find that this test is often looked upon as the better one since people want to rank on Google more than any other search engine. A word of warning this test is more critical of the changes, don't be shocked if your scores plummet from a tiny change.
The general rule of thumb is test and then test again once you have made more changes. Always remember to clear your websites cache so you have the freshest information.
Related Questions
Is all of this worth it for a speed increase? Depends on your business. If you run a website which is an ecommerce or something that sells something to people online then maybe not. But Walmart did a study that showed that a two or three second difference cost them millions of dollars, it makes you wonder what it cost you when your website is slow.
What about free options? There are plenty of websites that talk about speeding up your site. We wrote an article here explaining on some finer points if it interests you in learning more. If you aren't tech savvy enough, you could just pay someone a one time fee and then set it and forget it. You shouldn't need someone to work on it more than once unless you run into a problem and if you purchased a license, you can reach out to support.
Conclusion
I hope this article has helped you see how you can speed up your Divi website without doing a lot of work. I hope it has also given you clues into how to check into doing this yourself.
If you liked this article and you want more Divi content or WordPress content, please check out our website for more information.