So you have bought a copy of Brizy and maybe you are a little confused by how the pop-ups work.  If you are coming from one of the other page builders, then you know that pop-ups are not universal. Every builder handles these differently and has a different way of using them.
The best way to learn Brizy pop-ups is to use videos such as Brizy YouTube channel, which goes over all the details. But if you want a simple tutorial, then you will find that this will help you out.
So if you want to learn more about Brizy pop-ups and even what you can do with them, then read further below as we dive into all the details. Brizy has really made their pop-ups more user friendly than ever.
Before starting what is required
Before you use Brizy pop-ups, know that this is not part of their free tools. Brizy gives always a lot of stuff for free but this is not one of them. Pop-ups will require a license for the pro version. 
If you are someone is on the fence pro can give you a lot more flexibility and still even offer a lifetime license. A lifetime license is something that you don't find with many of the main page builders on the market. 
If you work as a web developer or just own your own business, the price that Brizy is charging for their pro model is very affordable. I would consider it a sell, but for the use of this tutorial, we are using the PRO so you will need that installed to access the functions of pop-ups.
You will also need to have the pop-ups work on pages that are created by Brizy. Right now the pop-ups do not work with themes, so if pages are not Brizy made they will not show up. This is how Brizy works with most things.
If you would like to see our review on Brizy, then you can read about what we think about Brizy here.
Why do I need pop-ups, anyway?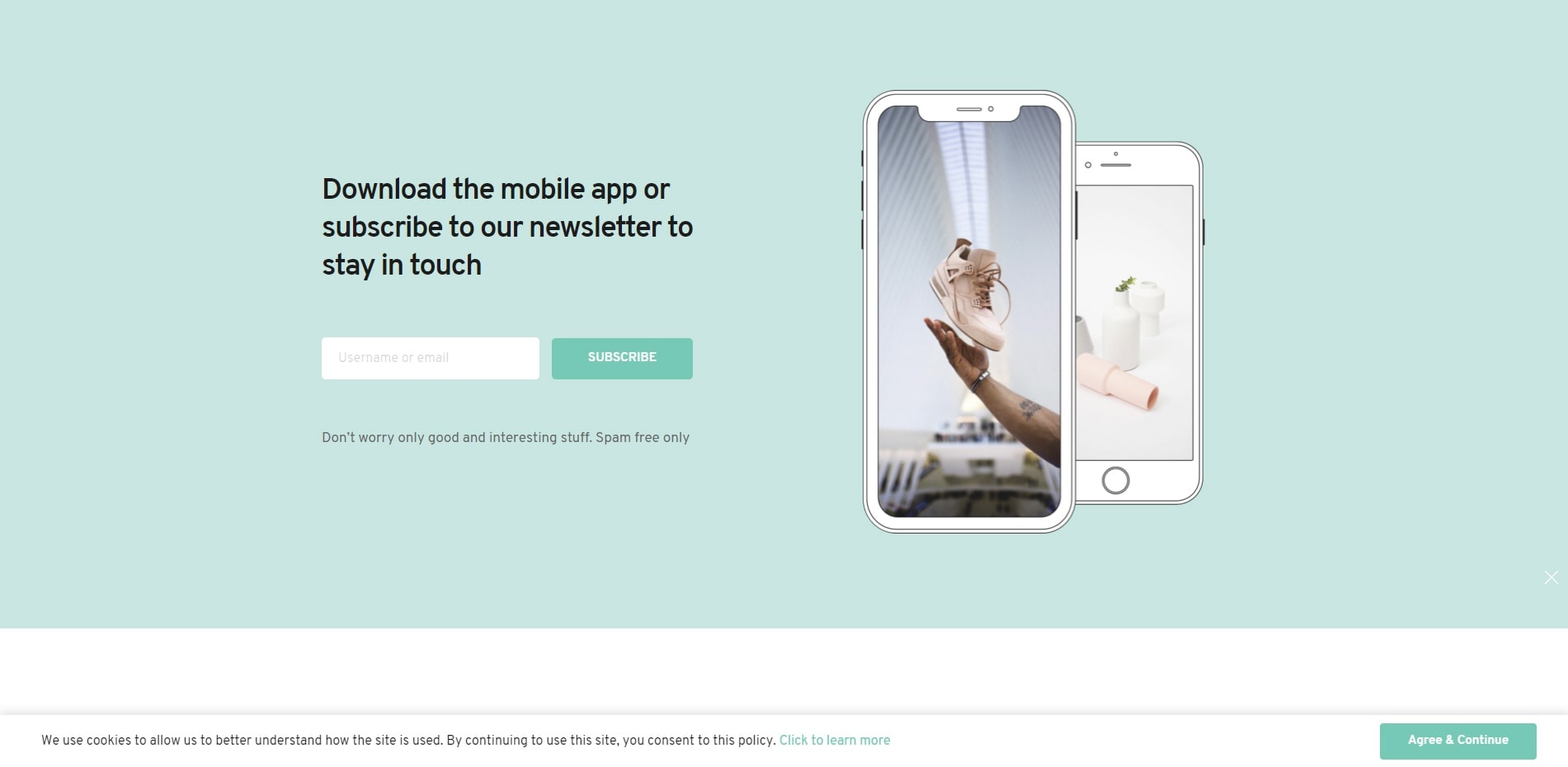 Pop-ups have been proven that when they are used right, can trigger more user interaction and keeping the user on the page. You can use pop-ups for a variety of reasons, but here are some of the most common reasons that I can think of:
Cookie consent form,
Email newsletter sign-up,
Free give-away,
Discount offers,
Important news,
Updates to the website
Planned maintenance.
These are just a few of the reasons that one person could use a pop-up as their main method for communication. There are plenty of more reasons someone would go out of their way so you see their pop-up.
Building your first pop-up with Brizy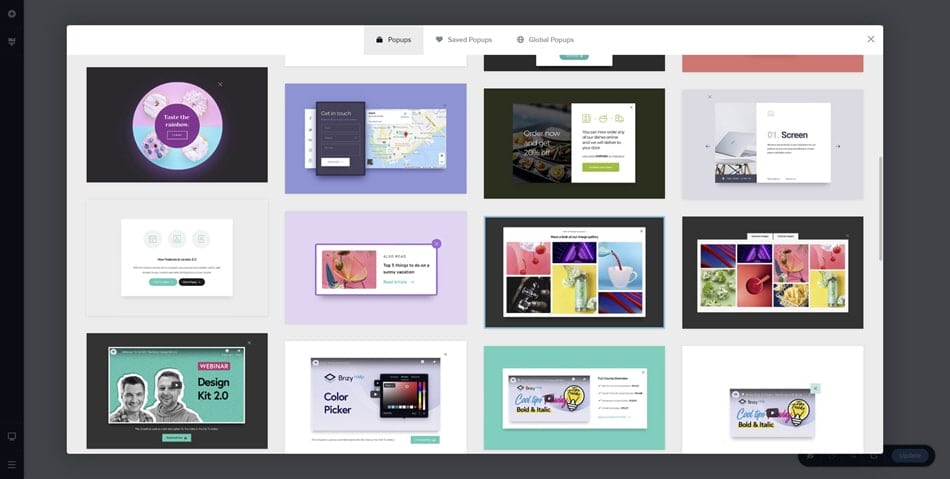 Once you have installed Brizy Pro under the plugin section of your WordPress install, then you need to activate it to get access to Brizy's library. While that portion is option since you can create a pop-up without, but if you want access to their cool designs, then you need it.
Once you have enabled it, you will have a section that opens up underneath Brizy called Pop-ups. When you click that area you will have a page similar to templates that allow you to create Pop-ups. 
The difference about this page is that when you click to add new, you'll name your pop-up whatever you want. Once inside, you will notice that the inside of the page differs from the typical pages. You won't see standard templates. 
It will be replaced with Brizy's own custom-built pop-ups. A pop-up can have any of the elements from the Brizy pages, which gives you an amazing amount of flexibility. 
If you don't want to use one of the Brizy's templates, then you are free to custom build them.
If you want to move the pop-up, then you can move it from top, middle bottom. There is also a button for left middle right. Inside of the settings you can control everything from backgrounds, width of the pop-ups, and everything else.
Understanding Triggers
Triggers are a special feature in pop-ups which allow you to have something happen on the page. Right now many of these triggers are standard, you won't find anything out of the ordinary, but they should be enough for you to get by with. The triggers include:
Triggers pop-up only once
On Click, After Inactivity
Show After X
Show on device
On Scrolls
Arriving From
Hide from Logging in users
On page load
These triggers will need to be set using a timer or some kind of value that gives it a signal to trigger the pop-up for the person vising the page.
After you have figured out your triggers, you will need to set conditions.
Understanding Conditions
Conditions are the areas of the website that the pop-up will be displayed. These can be the following areas which covers every page on your website:
All
Posts
Pages
Media
Categories
Tags
Search
Front
Blog
404
Archive
You can customize the conditions so that a pop-up only shows up on certain pages and not other ones. This gives you the flexibility that you need to adjust a pop-up for whatever you want it to do.
Putting it all together
Once you have designed your pop-up and set triggers, conditions and any other options you want, then you will find that these can be a lifesaver for a website. You won't need to pay for another plugin, you can just buy PRO and have access to all these features.
This is one of the biggest advantages of Brizy is the fact that they include so many extra features like this that is makes PRO model very attractive of an offer.
Related Questions
My Pop-up isn't showing up? Remember, pop-ups only work on Brizy designed pages. So if your page wasn't created with Brizy, then it will never show up. I have been on the Facebook group and been told that changes are coming soon to make it work on non-Brizy pages.
Every other builder has these, too? Yes, many of them include pop-ups but the "Brizy way" I find to be easier than some of the other methods that are out there including in other builders.
Does this work on Brizy Cloud? Yes, Pop-ups will work much the same way that they work on the WordPress builder. And if you have never heard of Brizy Cloud, then check out our review.
Conclusion
I hope you liked this very basic tutorial explaining how to use Brizy Pop-ups. I know this isn't the deepest subject in the world, but I wanted to make sure I included enough information that you would get some value from this post. 
If you want to learn about more Brizy content, then check out our website for more articles.