Anyone who is watching the affiliate marketing spaces probably knows that new themes come out all the time that say they will help you, well Acabado is an affiliate marketing theme but does it work?
How good is Acabado? Acabado has a bunch of features baked in to help with affiliate marketing, things like speed improvements, SEO, ad placements and Pinterest pinning. These features are the things that make Acabado stand out from other themes because of the combination of features.
So you are probably wondering at this point if Acabado is right for you and the answer is not a simple as you might imagine. Read below and learn what I think of Acabado and how it works.
Disclaimer: I am a current member of Income School. I purchased this with my own money and I did not recieve any income for this review. This review does contain affiliate links through out it.
Who made Acabado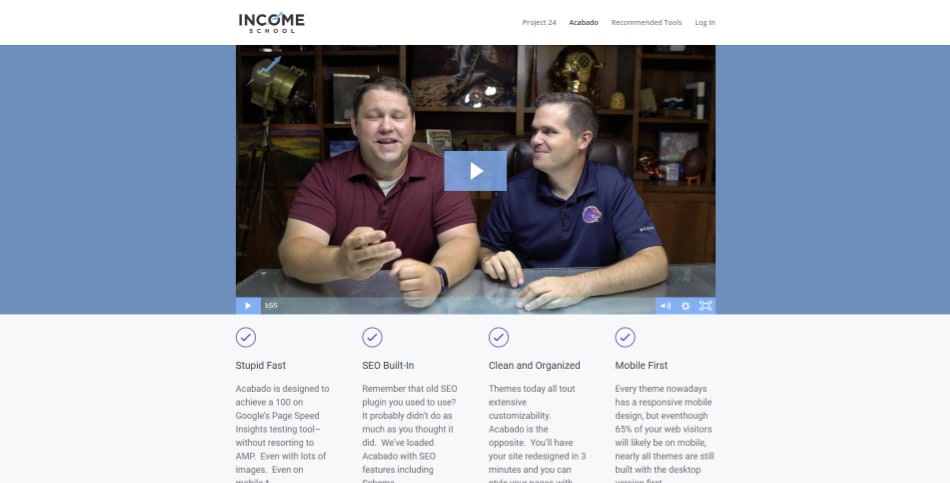 The same people who made Income School, Jim Harmer and Ricky Kesler created Acabado. Both Jim and Ricky used several themes before they decided to just create their own. I have the feeling that they tired of adjusting things in other themes and wanted a simple theme that did it all.
The great things about Jim and Ricky's theme is that they have taken much of their knowledge of affiliate marketing and baked it right into Acabado. When you open it up, you won't see many of the same things that you will see with other big named themes, you'll find it's light and ready to roll out of the box.
This has been the mentality of the Acabado theme, light on customizations but heavy on the things that matter such as speed on Google PageSpeed Inights.
So by now you are probably thinking wow, that sounds great but let's inspect Acabado and discover both good and bad.
Acabado's Speed Feature
Like I said above, because the Folks from Income School make it you can expect that Acabado is fast. How fast you might ask is the question you would be most interested in learning. But how does it compare to other themes such as Astra, OceanWP or GeneratePress?
Well, I saved you sometime and ran some long-winded tests to determine who is the true king. One very important note is that the Income School team does not really believe in other testing other than Google PageSpeed Insights. The thought process is Google is the one who ranks them so why do we care about chasing numbers with other page speed tests. If you want to learn more about website speed test check out our article here, it will explain all the details of a website speed test.
This is fair enough and I don't disagree with this thought but you will find that other page speed test can give you more details that Google really doesn't give you. So in this test, we did both Google and Gtmetrix.com which is one of the more highly rated tests for checking page speed.
No, plugins other than the standard theme where installed, and the test I ran the test on shared hosting. The reason being is that shared hosting is one of the slowest methods you can pick for hosting your website. If you website can run fast on shared, then it will run fast on almost anything else.
Below are the results divided by the two tests.
As you will see Acabado took home the trophy for the best in class even beating out Astra for the Google PageSpeed Insight test, which as we said they focus on. However, under Gtmetrix that is where you see some cracks because Astra takes #1 in that test.
To be fair to the other themes they offer customizations which allow you to speed them up but I wanted out of the box testing. I wanted someone who would throw up a website in a day and not speed hours tweaking to get the speed to the right point. None of these speed test include any plugin support which could raise the score on many of these.
So as you can see Acabado lives up to the hype and is one of the fastest themes. The Income School team have done an incredible job of making sure their theme is ultra fast right out of the box without installing any plugins.
Acabado's SEO feature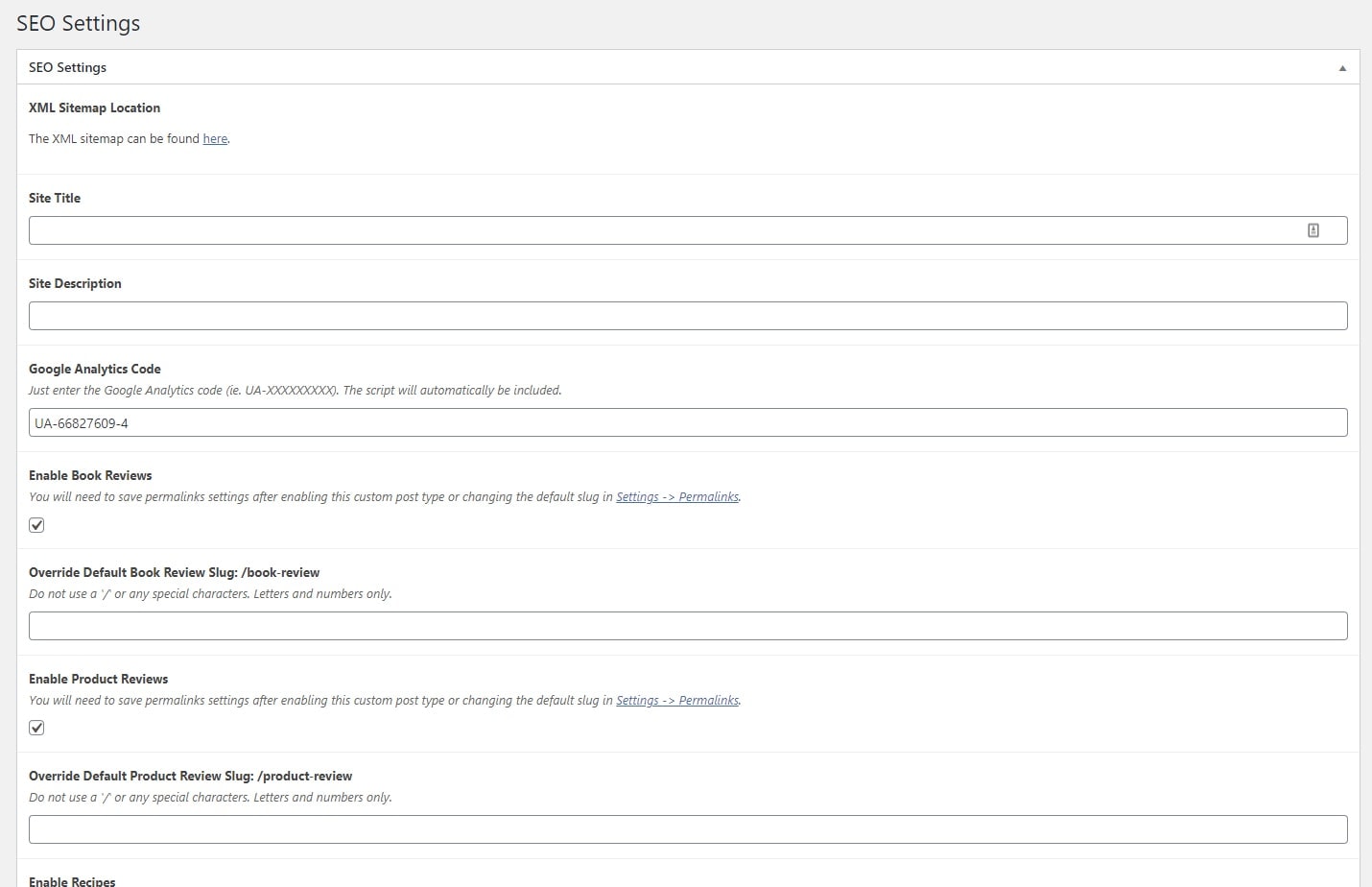 Acabado comes with no shortage of great features installed without you having to install anything else, one of these is the SEO feature. Most themes only come with some basic level of SEO installed and still require something like Yoast or SEOPress to change your SEO structure on the website.
Acabado comes with a sitemap.xml already installed, it also has an area for site title, site description and Google Analytics code. For some people they just eliminated two plugins which are commonly used.
But the good news doesn't stop there, Acabado also includes book reviews, product reviews, recipe reviews and video reviews. This allows you to create posts which involve that content which will include schema on the page so that the post can rank better in Google's rankings.
They also include an organizational schema for your business which include things like name, address, phone number. For anyone who is confused schema is a structured data that only search engines read but it has become very important for getting listed.
So if you are taking count we just reduced the number of plugins you use by at least two or three depending on if you know how to install Google analytics without a plugin. These small changes are the things that push Acabado to be as fast as it is on Google PageSpeed insights.
But we aren't done yet there is much more to talk about, let's talk about the customization options.
Acabado's Customization Options
To be fair, this is probably the area of Acabado you would most be disappointed by but it's not bad. You just need to understand why the Income School team decided on what they decided. 
They made Acabado to be fast and thrown up in as little time as possible.
Acabado Settings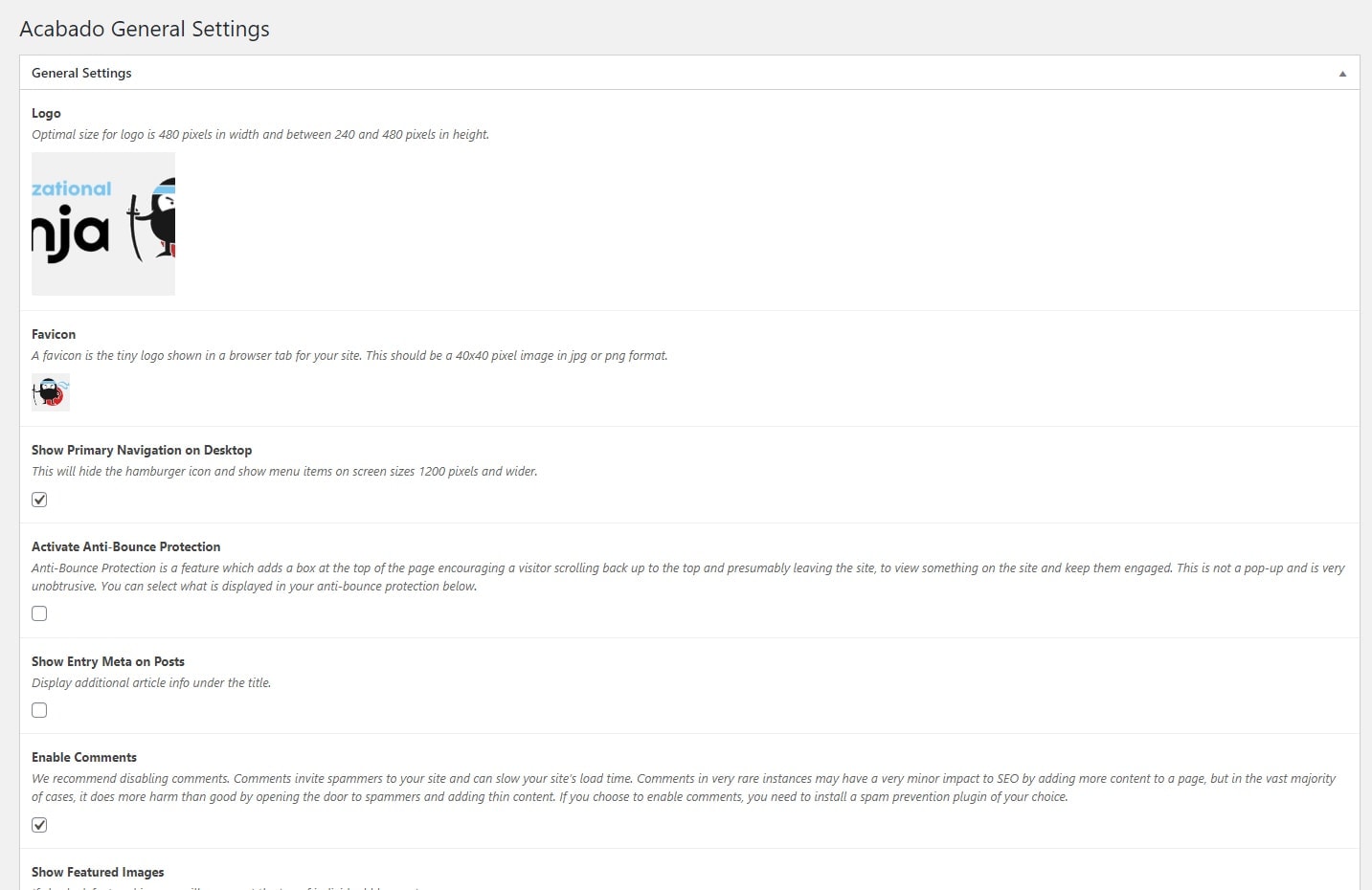 Remember, master affiliate marketers created this theme, that means unlike a standard theme which tries to help everyone equally, Acabado has one goal, be the best theme for affiliate marketers. Jim and Ricky deliver on this but I can't help but want a few more options that maybe will come in the future.
The first thing you will find is the ability to upload a logo, favicon and a setting for toggling the menu on and off on a desktop. After this you will find that you have a nifty anti-bounce protection which is a pop-up that is triggered when the user is about to leave. You will also find many settings involving: meta, featured images, custom CSS, custom JavaScript (header and footer), disable ad spaces and change the menu label.
These are basic and they should change nothing, I wish you could customize the anti-bounce protection but then again not too many themes have that thing included with them, so I give it a thumbs up.
Acabado Colors
On the colors tab you will change the colors without editing CSS which is helpful. I found the location names to be a little vague and had to look at two screens just to know what the color label did. The biggest problem is that several elements can not have the color changed without CSS code being used.
Examples of elements which do not allow changes: menu, background, search icon, border colors, and much more. Once you dig into the list, you will find there are several things you just can't edit. This is a bit of a pain but I understand they don't want you to spend all day tweaking your website but that will happen if you can't edit something and you want to.
Acabado Footer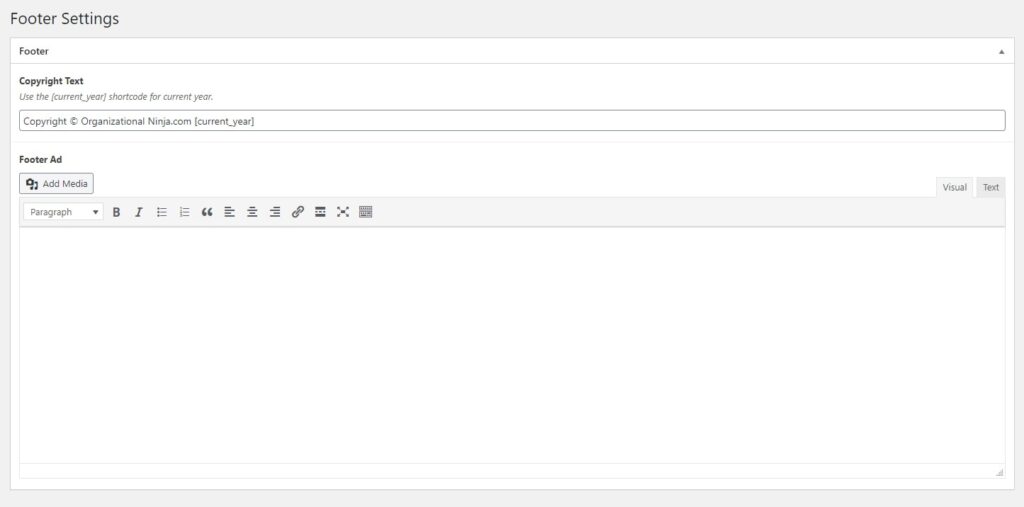 This tab allows you to change the footer text. It's a basic tab that I think could be rolled into another tab for UX/UI purposes but it does server the purpose of allowing you to change the text. 
It also gives you a text box for a footer ad, my assumption is that you just copy and paste the code but no instructions are ever given on the page. Some kind of label text would be useful for helping to understand what it does.
Acabado Homepage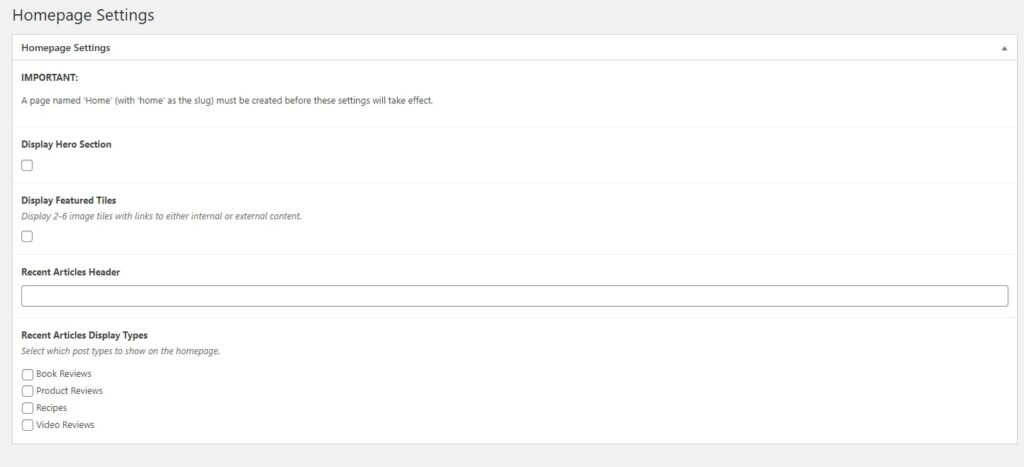 This is one area where things get interesting, Acabado allows you to create a homepage area on your main page which includes things like a hero image, featured posts, recent articles and even display types. Basically, it allows you to pull certain posts and make the page into more of a newspaper layout than a traditional blog with post down a page.
While this sounds amazing, and it is, I can't help but feel like after a certain period all these pages will look the same. Other than colors, most of the pages will enable these functions and boom you have a clone of a clone of a clone.
If there is one thing that makes me nervous more than other things, it's a massive number of websites that all look like each other and act like one another. I have no real basis for this fear I just worry that Google will not want to keep showing the same page types repeatedly but I could be wrong. I would love to see more data why we can't have more options here.
Acabado Sidebar
Income School really believes that sidebars are the way to go, even though data and heat maps say otherwise. Still when I listened to their talk, I understood their rational. Sidebars have a place on websites when they are not used incorrectly.
The Acabado sidebar follows the Income School method and allows you to do: About Header Text, About Image, About copy, about button text, about button link, legal information and sidebar ad. This all amounts to having a sidebar which is the primary focus is supplemental information and ads, which I think is good.
Acabado Pricing
Acabado offers three pricing options even though two are only listed on the main page. The first is a flat $50/a year or $99/lifetime. Both prices are in line for the price of a theme. I would argue that the yearly is high, $25 to $35 is the going rate for yearly themes.
However, I think it's Income School's job to drive the more important $99 which is a great bargain for anyone looking for a decent theme to use for an affiliate site. 
I mentioned there is a third price, and that is the price of joining the Income School course which teaches you how to build affiliate websites. They throw Acabado in for free with the price of admission which I think is nice of them to do. If you want to learn more about Income School or joining their course learn more here.
Related Questions
Is the SEO on Acabado enough or do I need a plugin? Opinions will vary but for the vast majority of people it will work just fine out of the box without you needing to install another plugin. With that said there are a lot of features missing from the SEO portion of this theme that I never expect to see added so if you need a plugin, use a plugin.
Can I use this theme with a page builder? You can but you are adding unnecessary bloat to a very clean and slim theme. If you will use a page builder, I'd recommend Astra over Acabado. I think the best part of Acabado is that you don't need a page builder but you can use it. Gutenberg that comes pre-installed with WordPress 5.0+ should be more than enough to customize your posts without using a page builder.
Conclusion
The Income School team has done an amazing job and I believe that their theme will only get better with time. Still that being said, there are several minor concerns I have that they can't address. First being that this theme is still new and has no track record or bug fixes. They have been addressing the bug fixes, but the changelog is very vague, so how do you know if your specific bug was ever really fixed.
Second, we have no idea the company behind Acabado, it could be a bunch of random programmers and web developers but what happens if the lead developer leaves? You could suffer from minor road bumps along the way which is one reason I back companies with a long track record. 
With all that said, it doesn't change my stance. I am a part of the Income School community and I would still buy the theme. That is the test that tells me if something is worth it and I say, Yes, without a doubt.
If you have liked the article and want to hear more about other themes or WordPress, please check out our website.