Understanding how hosting, domains and WordPress can really stump someone who is just diving into website design or someone building their business online.
Do you need hosting for WordPress? Yes. Someone has to host WordPress in order for it to work. You need hosting web space which comes in many varieties from shared, managed, VPS, dedicated and even something like WordPress.com which hosts it for you. Picking the right one requires research and knowing the features and traffic you expect from the website.
If you are unsure of what the terms like shared or VPS, then look no further. We are going to really dive into to what the different hosting is and then dive into some web hosts we recommend.
What is shared web hosting?
Shared web hosting is one of the more common types of web hosting that most people see. The reason behind shared web hosting is that it's cheap and really made for small to medium websites with limited traffic.
A lot of hosts that started off focus on shared have upgraded their services giving better more reliable hosting beyond just shared. This method is often latter like meaning you will climb the traffic bandwidth over time until you you keep buying bigger and better hosts.
The good news is shared web hosting can host most business websites and even personal projects up to around 25 to 50k a month in visitors.
The reason we say around 50k per month in visits is because after that point you will probably see a drop in performance unless you upgrade to a better host that can offer dedicated up-time.
The biggest problem with shared hosting is both up-time and reliability are not guaranteed. While most hosts that have any kind of established reputation will tell you, they try to keep the servers up and running as much as possible. The problem with this is, it's not always the case. 
If you run a business that requires you to be online if you want to make money and find customers then every minute you are down you are losing money. This is often the biggest reasons to upgrade to better hosting.
Another thing you should be careful of with shared web hosting is unlimited bandwidth and space. While most of these hosts will say your website has unlimited if you get hit with a spike then it's not uncommon to have your website go down. So take the use of the word "unlimited" with a grain of salt, hosts will use this to draw business into their web.
One final issue you may run into with shared hosting is that you are most likely on a server with many other different websites which can lead to hacking of that server because of people not keeping up their website.
Overall shared web hosting is a good affordable option for small to medium-sized businesses with very little traffic.
What is VPS web hosting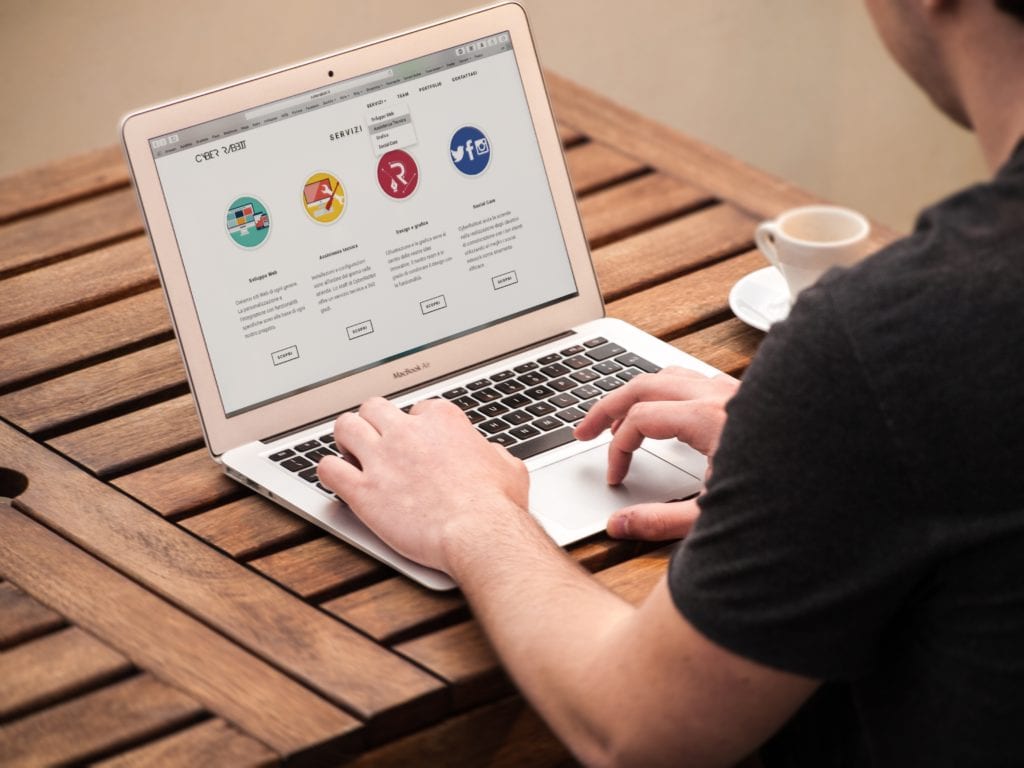 A virtual private server or VPS web hosting is when a web hosting company offers you web hosting through virtualization. Unlike shared which shares space on a host, this you have a virtual space that are given access to.
VPS often runs using the software VMware or Virtual Box in order for you to have a website. 
The biggest advantage of VPS hosting is that you own the whole instance of the virtual machine. So you don't share space with any other websites other than the ones you create. This can be great for someone with moderate traffic that wants more control over what is on their server.
This is one reason when you look into VPS they will use different lingo such as CORES (which refers to computer cores) or RAM (random access memory) also another computer term used to describe the level of power you are getting with your virtual machine.
Some downsides of virtual machines are less efficient than a real machine because it accesses the hardware indirectly. This means that the software isn't allowed certain privileges you would get if you had a real machine running your website.
Still the pricing for VPS is very competitive and often comes with a decent support for your website.
What is Cloud web hosting
Cloud hosting is an upgrade to VPS in terms of how it works. With Cloud hosting the hosting is still virtual as above but the difference is it is spread over more than one machine. This means your web hosting isn't as resource hungry as it can be using VPS.
Cloud hosting also usually has a redundancy so that if one server has an error that your website will still be up and running. It is also a lot faster and comes with a much higher price tag than VPS. As you add resources to increase the speed of your site, they will charge you more money.
This makes it a much better solution for scaling a medium to larger sized business since the pricing in most cases can be simple to navigate. I would recommend cloud hosting just for the backup purposes which can make anyone build a website a much easier process.
What is dedicated Web hosting
Dedicated or managed hosting as some web hosts will call it, is when you rent out a server. Unlike VPS and cloud, the whole real physical server is rented out for your web space. 
This tends to be the most expensive plans you can get since it gives the most amount of resources. It also comes with a big learning curve as you will need to learn how dedicated web hosting works.
Unlike shared you have a whole server at your fingertips which can lead to some things you probably have never thought of. With shared a web hosts takes care of maintenance and things of that nature. When the server is yours, you will probably to have to keep up certain aspects.
The pricing for these types of hosts can also be extreme. While it gives you the best resources those resources come at a cost that will break most websites banks without a large amount of clients or traffic.
Dedicated should only be considered for businesses that a large that can incur the extra expense of the dedicated web hosting.
What is WordPress web hosting
WordPress web hosting is a new hosting that has become more popular in the face of WordPress market share. Due to the fact that so many people now run WordPress sites, web hosts have developed servers that are configured for WordPress and only WordPress.
This is a good thing because the servers themselves are faster than typical website servers and they have other benefits such as automatic updates, daily backups and security features.
While people will likely argue that WordPress web hosting is a gimmick, you can't deny that some people need the extra support. A lot of these web hosts offer extra support for WordPress which is nice for those people who just don't know how WordPress works and need a little additional help.
What type of Web hosts do you recommend?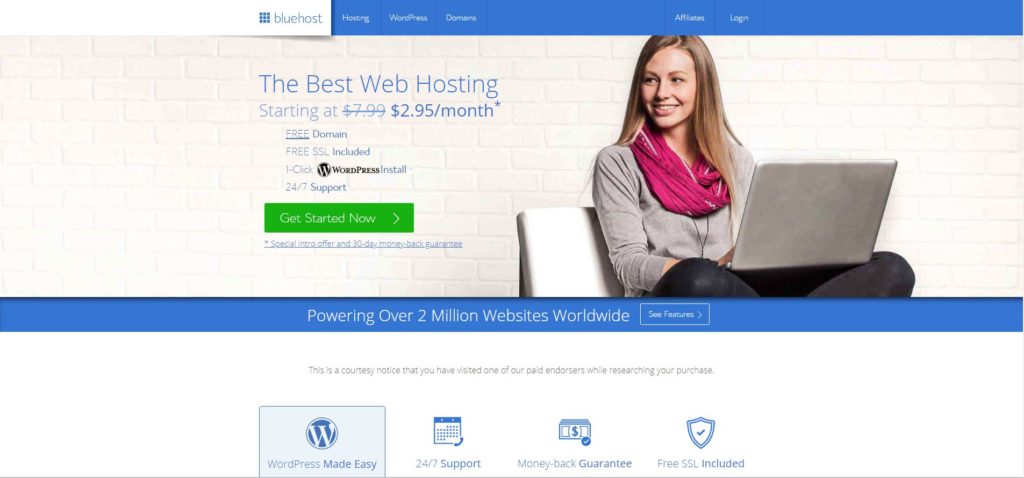 Now that we have looked at what the different hosting is, which will help you. We will take a hard look at the different hosts that are out there and what I recommend.
Keep in mind these are my opinions as a web designers so you can take this information with a grain of salt. Some of this will be biased as they're some hosting that I think is just excellent that I have seen other people say are not their favorites. 
When looking for a host you want to focus on four aspects of hosting which is
Support
Uptime
Features
Pricing
There are few hosts I would say meet all of these needs for every single person. Some will have excellent support but higher pricing. Some will have better features and up-time but terrible pricing or support. 
You really need to experiment with a host to determine if they meet your standards. Some famous hosting companies I dislike purely on ethics. You as a consumer may not agree so I find it pointless to bombard you with facts that don't matter unless you find they don't work for you.
I will go over the top five hosts I believe are the best and why I picked each one. It's important to note that these are the hosts I recommend, each person will have different reasons for different hosting providers. 
Bluehost is probably a hosting service you have heard talked about from many people. It's popular for many reasons but the fact is, overall it's a good buy.
Bluehost doesn't have the best support, nor prices, nor features but all of these things are okay. They aren't bad but they are not great either.  So many people will pick Bluehost for their starter website.
I would not recommend Bluehost for more high traffic websites, however they are fine for a website small to medium-sized which is a majority of the people I cover. I find that Bluehost offers the best price for function in terms of all the hosting providers.
They also have a better upgrade path than a lot of other hosting providers. If you are new to hosting providers, you can't go wrong with Bluehost.
If Bluehost is the small to medium host. SiteGround is the big daddy hosting company. Not only is their support amazing but they offer the best reliability that a host can have.
The thing that drives SiteGround is an excellent customer experience and servers that designed for WordPress. Many people also like the features that SiteGround includes, things like free migration and SSL certificates.
One thing that remains constant through the WordPress community is that SiteGround is one of the most reliable hosting companies that offers great support. I would recommend them for people who are looking to expand from lower end hosting services.
A2 hosting is another budget hosting company but according to some people who have compared them they are fast. They are the top for fast servers and fast access to your website. If you're just starting, you can't go wrong with choosing A2 hosting.
The one warning I will give is that A2 hosing is said to have moderate support so you won't find the support of a Bluehost. That being said, I think if you are savvy enough to know what is wrong with your website most times then A2 is not a bad host to pick.
A Small Orange is a company that was taken over and since hasn't had the level of service they have had before. I loved A Small Orange about five years ago, their customer support was one of the best.
They have fallen off the bandwagon in terms of support and features but are still a decent company for small to mid-sized businesses. I have found none glaring issues that made me think someone should not use them.

The other plus is that they have one of the best up-times of the business. There websites are not as fast as A2 but their up-time is almost 100%. So if you website has to stay up no matter what then consider them as your host.
Flywheel is another bigger hosts that people are likely to use. They are a WordPress only website that doesn't offer features of some lower end hosts but better support for WordPress. 
Their pricing is very clear cut and you know what you are getting. They also support WordPress well compared to some others above. They are specialized and have lots of services that revolve around WordPress specifically.
My only piece of criticism is that they are very aggressive in getting you to be one of their customers. Still not a bad hosting company by any means.
Related Questions
How do I know what host is the best hosting company? There is no best. One of the flaws of this thinking is two parts, number one…there is a number one. There isn't. Number two everyone's situation is different and same with hosting. Overtime things change, so you can't convince me nor should I convince you that one host is better than the others. Test them yourselves and find out which one is right for you.
Can't a host the website myself? You certainly can host a website on your own server and have people  access your site. The problem is people much smarter than I have done the math and it doesn't work. The cost of IPS, traffic to the site and the price of electricity just is not worth the added costs. You are better off outsourcing.
I hope this article has helped you understand the different types of hosting as well as some web hosting companies that I recommend. A lot of this is based upon my opinion so as I said earlier test these theories out and make a decision for yourself, this is simply a road map to help you.