If you have just started using WordPress you, then you have heard of the plugin Jetpack. This plugin adds some extra functionality to the WordPress core and to some it works really well to fill in those gaps.
What does WordPress Jetpack do? Jetpack is a WordPress plugin created by the company Automattic who is behind WordPress. Jetpack fills in much of the functionality missing from WordPress such as things like analytics, security, forms, marketing and Image CDN. Jetpack also includes a premium version with extended features such as real-time backups and better customer support.
With all the things listed above you may think Jetpack is an automatic install for every website owner but let's really look at why some web developers and business owners will want to skip Jetpack. We will also talk about just who Jetpack is for and why you might need it for your website.
Why do I need Jetpack for WordPress?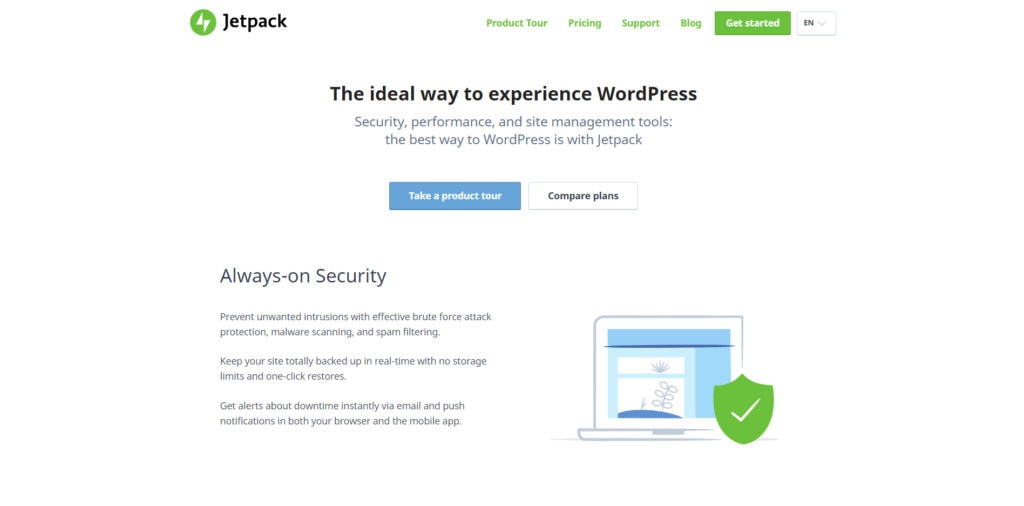 WordPress has a lot of the functionality missing from the core of the product. Automattic then gained another company originally owned Jetpack by another company and this isn't a surprise since they have been buying many plugins such as Woocommerce.
So you might ask what is the purpose of gaining something like Jetpack for WordPress? The answer is WordPress needs a lot of love that the core team can't give it nor do they want to include in core. This is because if WordPress had everything added to the core, then it would be huge.
So Jetpack was born to help fit in the gaps that WordPress left unplugged. The team behind it worked very hard to make it an all in one solution and while they didn't cover everything, I think most people would agree that they covered most of the things that people complained about with WordPress.
So now they we talked about the basics of why you might be interested, let's look at the whole picture before deciding and clicking activate.
What type of things does Jetpack do?
This truly depends on if you are using the freemium plugin or the pro which offers much more important features in my humble opinion. Let's inspect the things Jetpack does and what is missing from your basic WordPress install. Each of these features we will give a rating of 1 meaning not worth it to 5 meaning highly recommended.
While monitor itself isn't a bad thing, I think its usefulness is overrated. This is a free feature that Jetpack gives to websites which allows you to monitor when your website goes down.
Some would say but Patrick, that sounds useful! I want to know when my website is down that cost me money every time it goes down.
But if you had a better web hosting company, then you wouldn't need to know when your site is down because 99.8% of the time your website would be up. So wiser for someone who needs their website to be up to find a better host than to invest in a plugin that tells you when it's down.
Not to mention this can lead to false positives. Web hosting companies will sometimes need to reboot the server and depending on their location they might need maintenance which could mean anywhere between 10-30 minutes of downtime. This is common and I wouldn't be shocked if you experience something like this in the early morning, most hosting companies do this.
Jetpack's Brute-force protection that is offered is one of the worst pieces of security software is in the WordPress library. It's awful compared to what you can get for free from something like Wordfence or other security plugins. 
It also gives you the illusion that it will protect you when in fact one of the strongest methods of protection is a two factor authentication which far outweighs brute-force protection.
Still this is better than nothing, hence the rating of 2 stars and not 1. Never rely on just this as you will find your website hacked in no time. Although Jetpack gives the option to use Two factor authentication through WordPress.com
Site Accelerator Images & Static Files
This is a useful feature for anyone who is trying to speed up their site. I don't give it an excellent or good rating because the settings behind this are too simple to account for every factor which will help with the bloat that this plugin puts on your site. However, a good free speed plugin from WordPress plugin directory will work fair better than this will ever work.
This is like the above statement. It's not that it is a bad thing to have, in fact it's very useful. But there are other plugins that do this and more far better such as something like Shortpixel.
This piece of Jetpack is good to have because if you have anything on your site that allows comments then you will most likely end up with spam. It's a given that bot search the web and look for websites to spam every hour of every day.
As part of the brute-force protection listed above they included something that will auto update themes and plugins. They have proven it repeatedly that most hackers access sites through outdated software so it's best to keep this software up to date.
The problem is that when you are updating plugins and themes, it's very common that you can have an update break your website completely which is why backups are a must for any website. It's also why many people turn off auto updates by default because the chances of a plugin conflict are high.
Display Images in Photo Gallery
While this is a nice to have since it can make websites that are image heavy look nicer this isn't something that I think every website needs since most people don't care to look at galleries, unless you have a business that requires that.
Testimonials are something that most businesses would agree you need to make sure that people believe and trust in you. Funny thing about this is a testimonial only needs to be a comment from a previous person who has worked with this business so they waste this functionality. Text can do the same thing, this just makes it look more pretty.
Again not every business needs a portfolio but some will require something to prove their experience to clients. This gives you the option to have a portfolio as one section on your website. It's okay but there are many better ways to do this and they don't require Jetpack.
This is something that can keep people on a page and also annoy them at the same time. It's primarily used by blogs and other news like websites to keep people scrolling through a feed of information is on your website. It has a moderate effect for the retention of a person's attention but it also has a negative effect. Whenever someone wants to see footer information such as contact or otherwise access the footer this can make the process very hard and tedious.
This feature was probably originally very useful for websites which were not mobile responsive such as more static themes. However, since the Google revolution of forcing people to be mobile responsive or lower search results this has proven to be one of the more useless features.
Almost every theme or framework out on the web has mobile responsiveness built into the code because people are now mobile friendly. This is simply a waste now.
Enhance CSS customization
I would love to get this a rating of 4 stars but seeing how a general part of the population has zero knowledge of CSS the usefulness of this is limited. For a seasoned developer having the ability to have a little extra CSS help is never a bad thing, and this is one of the more useful features. But to someone with no idea how to code this doesn't give you any extra advantages.
I am sure at one point WordPress was ruled by Widget area's and many web designers used these areas for clients to make changes to the website. Sadly, with the birth of things like Gutenberg, Elementor, Oxygen, Beaver Builder and X-Theme; you have no reason to even worry about widgets. When you can design full websites without knowledge of coding, it makes widgets very subjective in their use.
This follows the same reasons as what we list above, you don't see very many themes using widgets as much anymore.
Having the ability to do posts by e-mail is something that is probably underrated with web design. This allows you to email WordPress your blog posts and then convert them into a blog post for your blog. For someone who intends to write a lot of content and post it to their website, this is one of the more useful add-ons.
Enable WordPress Toolbars
I am sure that somewhere out there someone loves toolbars and will say this is useful. I can't see the use in having the WordPress toolbar unless you site is hosted by WordPress which is not a good idea for several reasons. I have a feeling this was included as more of a marketing weapon to get people to use to WordPress in their life. It's not needed for people using self hosting unless you have a reason to access WordPress daily.
This will allow you to add social media accounts to your website so that when you have new posts that go live these posts are shared to the sites you give WordPress access to. This is a passive way to do social media, but it isn't the best way to do social media in my humble opinion.
These are very useful for any website which wants to promote its content to other social networks via people who are interested in that social network. These buttons might not have the best conversion rates but they have been proven to work, and that's much better than spamming the world with your content above.
Facebook is going through a digital Renaissance right now where it is pushing people to use its technology. Problem is while Facebook is for sure one of the biggest social media networks, people have learned that it's a pay to play environments. What used to be free has become paid, and the company has only gotten more greedy as time has gone on.
Comments are not inherently useful for a blog or website but they can spur conversation if used correctly. The problem is that most website owners don't devote anytime to comments nor follow-up questions which can be helpful for clarifying statements.
Subscriptions are once again a nice to have but they offer little value to the person who is viewing the website. For certain types of websites they can be very useful but for the vast majority I would not recommend them.
Out of all the things that Jetpack does for WordPress, this is by far the most important. Having related posts at the bottom of your website is like feeding people post after post once they reach the bottom of the page. It can be very helpful and converts very well. This add-on is a must have for any website.
Search Engine Optimization
Once again this is something that WordPress fails at. So much so I would say that I am shocked that they have never added better SEO tools inside of WordPress right out of the box. However, that being said when you compare something like this to an SEO Tool such as SEOPress, which we wrote a review on here; you find out that those plugins are much better.
Google Analytics can be added to a website without the use of this plugin and while it may be complex for first-time users. Most people can add Google Analytics without using something like this but if you end up using this just know there are many tools which already include the ability to add analytics such as SEOPress, which has it built in.
Having your site stats on the dashboard for WordPress can be a big thing for people who are too busy to drop everything and go website to website looking at all the stats. I would recommend something a little different. Rather than worrying about stats at all you are better off monitoring this once a month rather than daily. Getting obsessed with stats is nice, but it also has negative effects it can have on you.
Once again this is a nice to have but I wouldn't consider this tool, a must have. There are plenty of free short link tools which will do the same thing this tool does for free.
Sitemaps are generally handled by an SEO plugin and just like above this is better left to more established SEO plugins which give many more options than what Jetpack does. I'd leave any SEO to SEO based programs rather than a generalist program.
Once again this is another nice to have tool, but it isn't hard to verify most sites. The instructions are easy to follow and once you have done one of them, then you will probably know how to work with all of them.
Pricing for Jetpack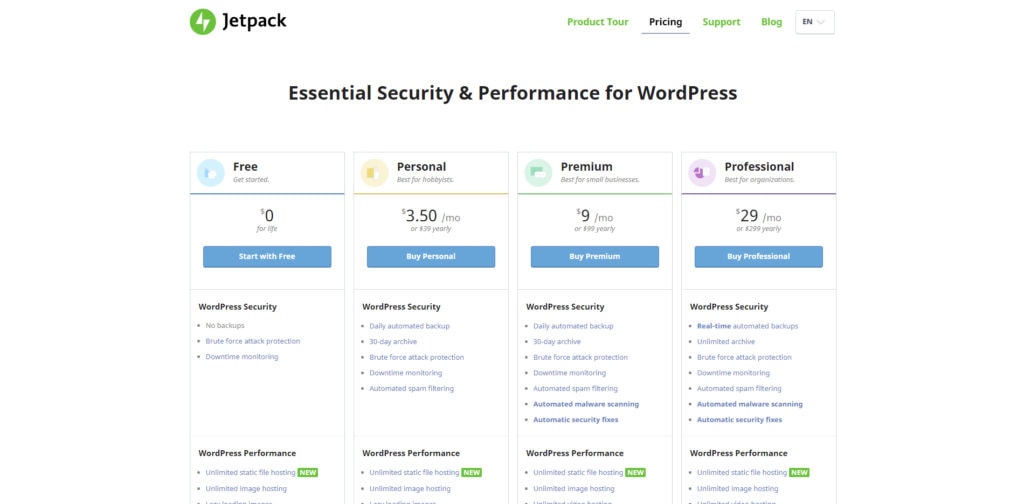 So looking over everything Jetpack does you might want to argue and say the pricing has got to me well deserved for so many tools rolled into one package. And as a matter of fact there are several tools which we did not cover because they require a PRO subscription.
Pricing for Jetpack comes in four tiers:
Free
$3.50/per month ($39/year)
$9/per month ($99/year)
$29/per month ($299/year)
I won't include the differences between them, the Jetpack pricing page has that laid out pretty well, but it boils down to the following.
Better support, premium themes, malware scanning, better SEO and better backups.
To be fair, buying all these things by themselves can be very expensive as a new business but you need consider the fact that certain people will never need some of these items or can use free solutions which work just as well if not better.
That's one of the ultimate problems with Jetpack. We live in a world where we are forced to bundle and people just don't care for bundling all that much. They would much rather use a method similar to ManageWP which allows a more a la carte selection and you only pay for what you need.
People are interested in bundling things that they don't need in a plugin and that's one of the biggest drawbacks of what Jetpack offers. If they changed their pricing structure, I am sure they would see better sales, but this is just my business sense. Lifetime pricing has ended this bloated pricing structure they are using and it won't take long before it just doesn't work anymore at all.
JetPack performance issues
So WordPress already has several performance problems from the start of using it. Without proper optimization out of the box, WordPress is very sluggish with performance, you will need to use certain plugins to improve this. Jetpack offers no real solution other than the minor features it includes above which are good but not great.
Someone who is obsessed with making their website as fast as possible will find a lack of resources with Jetpack which will leave you asking, why not use another product?
Conclusion
Would I recommend Jetpack for a new website? No. There are much better resources out there that exists that are free for website developers without ever having to dive into Jetpack. With that said, would I ever recommend it? Sometimes.
If you are on the cheapest budget possible and you don't mind a minor hit to performance, then Jetpack can be the all-in-one solution for you that can make or break the bank. Just keep in mind some suggestions I have mentioned above. Often you find that you are better off using a handful of free plugins than to use one that gives you a bunch of options that you will never use but will continue to the pay for even if you don't want them.
I hope you liked this article. Let me know if your website uses Jetpack? Am I wrong or do you feel like I am right. I'd love to hear your feedback and if you enjoyed this article, we post new articles every week related to WordPress and Web Design.